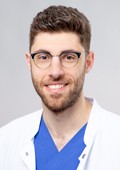 Areas of expertise
Pediatrics and youth medicine
Publications
Long-term antibody response to SARS-CoV-2 in children
Dunay G, Barroso M, Woidy M, Danecka M, Engels G, Hermann K, Neumann F, Paul K, Beime J, Escherich G, Fehse K, Grinstein L, Haniel F, Haupt L, Hecher L, Kehl T, Kemen C, Kemper M, Kobbe R, Kohl A, Klokow T, Nörz D, Olfe J, Schlenker F, Schmiesing J, Schrum J, Sibbertsen F, Stock P, Tiede S, Vettorazzi E, Zazara D, Zapf A, Lütgehetmann M, Oh J, Mir T, Muntau A, Gersting S
2022.
Analysis of Activity and Expression of the NLRP3, AIM2, and NLRC4 Inflammasome in Whole Blood
Grinstein L, Winkler S
Methods Mol Biol. 2022;2459:105-116.
Thirteen-month-old girl with hyporegenerative macrocytic anemia due to Brown-Vialetto-Van Laere syndrome 2
Naami N, Borkhardt A, Yoshimi A, Grinstein L, Escherich G
AM J HEMATOL. 2022;97(11):1495-1496.
An optimized whole blood assay measuring expression and activity of NLRP3, NLRC4 and AIM2 inflammasomes
Grinstein L, Endter K, Hedrich C, Reinke S, Luksch H, Schulze F, Robertson A, Cooper M, Rösen-Wolff A, Winkler S
CLIN IMMUNOL. 2018;191:100-109.
Letzte Aktualisierung aus dem FIS: 05.02.2023 - 04:31 Uhr