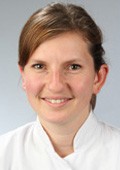 Dr. med.
Laura Berneking
MHBA
Location
---
Campus Forschung N27 , 2nd Floor, Room number 023
Memberships
Deutsche Gesellschaft für Hygiene und Mikrobiologie

Deutsche Gesellschaft für Infektiologie e.V.

Berufsverband der Ärzte für Mikrobiologie und Infektionsepidemiologie
Publications
Wound infection with Vibrio harveyi following a traumatic leg amputation after a motorboat propeller injury in Mallorca, Spain:a case report and review of literature
Brehm T, Berneking L, Rohde H, Chistner M, Schlickewei C, Sena Martins M, Schmiedel S
BMC INFECT DIS. 2020;20(1):104.
Major central nervous system complications after allogeneic stem cell transplantation: a large retrospective study on 888 consecutive adult patients
Mannina D, Berneking L, Both A, Timm W, Urbanowicz T, Wolschke C, Ayuk F, Fischer N, Fiehler J, Grzyska U, Rösner S, Choe C, Kröger N, Christopeit M
EUR J HAEMATOL. 2020 [Epub ahead of print].
Stool cultures at the ICU: get rid of it!
Manthey C, Dranova D, Christner M, Berneking L, Kluge S, Lohse A, Fuhrmann V
ANN INTENSIVE CARE. 2018;8(1):10.
Immunosuppressive Yersinia Effector YopM Binds DEAD Box Helicase DDX3 to Control Ribosomal S6 Kinase in the Nucleus of Host Cells
Berneking L, Schnapp M, Rumm A, Trasak C, Ruckdeschel K, Alawi M, Grundhoff A, Kikhney A, Nolte F, Buck F, Perbandt M, Betzel C, Svergun D, Hentschke M, Aepfelbacher M
PLOS PATHOG. 2016;12(6):e1005660.
Yersinia virulence factor YopM induces sustained RSK activation by interfering with dephosphorylation.
Hentschke M, Berneking L, Campos C, Buck F, Ruckdeschel K, Aepfelbacher M
PLOS ONE. 2010;5(10):.
Letzte Aktualisierung aus dem FIS: 25.10.2020 - 06:29 Uhr