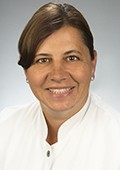 Prof. Dr. med.
Judith Dierlamm
Senior physician
Senior physician staff
Medical Specialist in Internal Medicine
Fachärztin für Hämatologie – Internistische Onkologie
Location
---
O24 , 1st Floor, Room number 147
Areas of expertise
Hematology

Oncology
Curriculum vitae
Awards
siehe Lebenslauf
Publications
2023
2022
2021
2020
2019
2018
2017
2016
2015
2014
2013
2011
2010
2009
2008
2007
EBV and 1q Gains Affect Gene and miRNA Expression in Burkitt Lymphoma
Akyüz N, Janjetovic S, Ghandili S, Bokemeyer C, Dierlamm J
VIRUSES-BASEL. 2023;15(9):.
Molecular monitoring of T-cell kinetics and migration in severe neurotoxicity after real-world CD19-specific chimeric antigen receptor-T cell therapy
Berger S, Fehse B, Akyüz N, Geffken M, Wolschke C, Janson D, Gagelmann N, Luther M, Wichmann D, Frenzel C, Thayssen G, Alegiani A, Badbaran A, Zeschke S, Dierlamm J, Kröger N, Ayuk F
HAEMATOLOGICA. 2023;108(2):444-456.
NTRK fusion protein expression is absent in a large cohort of diffuse large B-cell lymphoma
Ghandili S, Dierlamm J, Bokemeyer C, von Bargen C, Weidemann S
FRONT ONCOL. 2023;13:1146029.
Immunhistochemisches und molekulargenetisches Profil von Mantelzelllymphomen der Glandula lacrimalis: eine detaillierte Beschreibung einer seltenen Tumorentität der Tränendrüse
Mautone L, Dierlamm J, Heinrich M, Viehweger F, Schäfer H, Schüttauf F, Green S, Dulz S
KLIN MONATSBL AUGENH. 2023;240(1):33-38.
The prognostic impact of lymphoma perforation in patients with primary gastrointestinal lymphoma - a single-center analysis
Modemann F, Ahmadi P, von Kroge P, Weidemann S, Bokemeyer C, Dierlamm J, Fiedler W, Ghandili S
LEUKEMIA LYMPHOMA. 2023;64(11):1801-1810.
Non-Random Pattern of Integration for Epstein-Barr Virus with Preference for Gene-Poor Genomic Chromosomal Regions into the Genome of Burkitt Lymphoma Cell Lines
Janjetovic S, Hinke J, Balachandran S, Akyüz N, Behrmann P, Bokemeyer C, Dierlamm J, Murga Penas E
VIRUSES-BASEL. 2022;14(1):.
Molecular- and cytogenetic characterization of the IGH associated t(1;14) in a nodal marginal zone B-cell lymphoma case
Akyüz N, Penas E, Janjetovic S, Loges S, Bokemeyer C, Dierlamm J
LEUKEMIA LYMPHOMA. 2021;62(14):3526-3530.
PET-guided omission of radiotherapy in early-stage unfavourable Hodgkin lymphoma (GHSG HD17): a multicentre, open-label, randomised, phase 3 trial
Borchmann P, Plütschow A, Kobe C, Greil R, Meissner J, Topp M, Ostermann H, Dierlamm J, Mohm J, Thiemer J, Sökler M, Kerkhoff A, Ahlborn M, Halbsguth T, Martin S, Keller U, Balabanov S, Pabst T, Vogelhuber M, Hüttmann A, Wilhelm M, Zijlstra J, Moccia A, Kuhnert G, Bröckelmann P, von Tresckow B, Fuchs M, Klimm B, Rosenwald A, Eich H, Baues C, Marnitz S, Hallek M, Diehl V, Dietlein M, Engert A
LANCET ONCOL. 2021;22(2):223-234.
Rituximab Maintenance Versus Observation After Immunochemotherapy (R-CHOP, R-MCP, and R-FCM) in Untreated Follicular Lymphoma Patients: A Randomized Trial of the Ostdeutsche Studiengruppe Hämatologie und Onkologie and the German Low-Grade Lymphoma Study Group
Hirt C, Hoster E, Unterhalt M, Hänel M, Prange-Krex G, Forstpointner R, Florschütz A, Graeven U, Frickhofen N, Wulf G, Lengfelder E, Lerchenmüller C, Schlag R, Dierlamm J, Fischer von Weikersthal L, Ahmed A, Harich H, Rosenwald A, Klapper W, Dreyling M, Hiddemann W, Herold M
HEMASPHERE. 2021;5(7):.
Bevacizumab in Aggressive Pituitary Adenomas - Experience with 3 Patients
Osterhage K, Rotermund R, Droste M, Dierlamm J, Saeger W, Petersenn S, Aberle J, Flitsch J
EXP CLIN ENDOCR DIAB. 2021;129(3):178-185.
Outcome of a Real-World Patient Cohort with Secondary CNS Lymphoma Treated with High-Intensity Chemoimmunotherapy and Autologous Stem Cell Transplantation
Thiele B, Binder M, Schliffke S, Frenzel C, Dierlamm J, Wass M, Weisel K, Bokemeyer C, Janjetovic S
ONCOL RES TREAT. 2021;44(7-8):375-381.
Successful Treatment of Delayed Methotrexate Clearance using Glucarpidase Dosed on Ideal Body Weight in Obese Patients
Krüger C, Engel N, Reinert J, Alsdorf W, Fiedler W, Dierlamm J, Bokemeyer C, Langebrake C
PHARMACOTHERAPY. 2020;40(5):479-483.
Molecular profiling of an osseous metastasis in glioblastoma during checkpoint inhibition: potential mechanisms of immune escape
Mohme M, Maire C, Schliffke S, Joosse S, Alawi M, Matschke J, Schüller U, Dierlamm J, Martens T, Pantel K, Riethdorf S, Lamszus K, Westphal M
ACTA NEUROPATHOL COM. 2020;8(1):.
Fulminant blast crisis with de novo 11q23 rearrangement in a Philadelphia-positive CML patient undergoing treatment with dasatinib
Janjetovic S, Asemissen A, Dicker F, Binder M, Dierlamm J, Bokemeyer C, Schafhausen P
TUMORI J. 2019;105(6):NP8-NP11.
Four versus six cycles of CHOP chemotherapy in combination with six applications of rituximab in patients with aggressive B-cell lymphoma with favourable prognosis (FLYER): a randomised, phase 3, non-inferiority trial
Poeschel V, Held G, Ziepert M, Witzens-Harig M, Holte H, Thurner L, Borchmann P, Viardot A, Soekler M, Keller U, Schmidt C, Truemper L, Mahlberg R, Marks R, Hoeffkes H, Metzner B, Dierlamm J, Frickhofen N, Haenel M, Neubauer A, Kneba M, Merli F, Tucci A, de Nully Brown P, Federico M, Lengfelder E, di Rocco A, Trappe R, Rosenwald A, Berdel C, Maisenhoelder M, Shpilberg O, Amam J, Christofyllakis K, Hartmann F, Murawski N, Stilgenbauer S, Nickelsen M, Wulf G, Glass B, Schmitz N, Altmann B, Loeffler M, Pfreundschuh M
LANCET. 2019;394(10216):2271-2281.
PET-guided treatment in patients with advanced-stage Hodgkin's lymphoma (HD18): final results of an open-label, international, randomised phase 3 trial by the German Hodgkin Study Group
Borchmann P, Goergen H, Kobe C, Lohri A, Greil R, Eichenauer D, Zijlstra J, Markova J, Meissner J, Feuring-Buske M, Hüttmann A, Dierlamm J, Soekler M, Beck H, Willenbacher W, Ludwig W, Pabst T, Topp M, Hitz F, Bentz M, Keller U, Kühnhardt D, Ostermann H, Schmitz N, Hertenstein B, Aulitzky W, Maschmeyer G, Vieler T, Eich H, Baues C, Stein H, Fuchs M, Kuhnert G, Diehl V, Dietlein M, Engert A
LANCET. 2018;390(10114):2790-2802.
MALT1 sequencing analyses in marginal zone B-cell lymphomas reveal mutations in the translocated MALT1 allele in an IGH-MALT1-positive MALT lymphoma
Akyüz N, Albert-Konetzny N, Pott C, Callet-Bauchu E, Bokemeyer C, Murga Penas E, Dierlamm J
LEUKEMIA LYMPHOMA. 2017;58(10):2480-2484.
The beauty and the beast: lymphoma-like morphology of myeloid blast phase in CML
Asemissen A, Dierlamm J
BLOOD. 2017;130(10):1274.
Frondoside A induces AIF-associated caspase-independent apoptosis in Burkitt lymphoma cells
Dyshlovoy S, Rast S, Hauschild J, Otte K, Alsdorf W, Madanchi R, Kalinin V, Silchenko A, Avilov S, Dierlamm J, Honecker F, Stonik V, Bokemeyer C, von Amsberg G
LEUKEMIA LYMPHOMA. 2017;58(12):2905-2915.
Optimization of rituximab for the treatment of DLBCL: increasing the dose for elderly male patients
Pfreundschuh M, Murawski N, Zeynalova S, Ziepert M, Loeffler M, Hänel M, Dierlamm J, Keller U, Dreyling M, Truemper L, Frickhofen N, Hünerlitürkoglu A, Schmitz N, Pöschel V, Rixecker T, Berdel C, Rübe C, Held G, Zwick C
BRIT J HAEMATOL. 2017;179(3):410-420.
Severe and irreversible myelopathy after concurrent systemic and intrathecal nucleoside analogue treatment for refractory diffuse large B-cell lymphoma: A case report and review of the literature
Alsdorf W, Schmitz M, Schieferdecker A, Dierlamm J, Bokemeyer C, Binder M
J ONCOL PHARM PRACT. 2016;22(3):523-7.
Complementarity determining region-independent recognition of a superantigen by B-cell antigen receptors of mantle cell lymphoma
Fichtner M, Spies E, Seismann H, Riecken K, Engels N, Gösch B, Dierlamm J, Gerull H, Nollau P, Klapper W, Dreyling M, Binder M, Trepel M
HAEMATOLOGICA. 2016;101(9):e378-81.
Efficient transformation of primary human mesenchymal stromal cells by adenovirus early region 1 oncogenes
Speiseder T, Hofmann-Sieber H, Rodríguez E, Schellenberg A, Akyüz N, Dierlamm J, Spruss T, Lange C, Dobner T
J VIROL. 2016;91(1):e01782-16.
PD-1 Blockade zeigt therapeutische Aktivität: Neuer Therapieansatz beim rezidiveren Hodgkin-Lymphom
Coym A, Dierlamm J, Bokemeyer C
InFo Onkologie. 2015;(6):34-36.
Comprehensive cytogenetic and molecular cytogenetic analysis of 44 Burkitt lymphoma cell lines: secondary chromosomal changes characterization, karyotypic evolution, and comparison with primary samples
Murga-Penas E, Schilling G, Behrmann P, Klokow M, Vettorazzi E, Bokemeyer C, Dierlamm J
GENE CHROMOSOME CANC. 2014;53(6):497-515.
Cytogenetics of extramedullary manifestations in multiple myeloma
Billecke L, Murga Penas E, May A, Engelhardt M, Nagler A, Leiba M, Schiby G, Kröger N, Zustin J, Marx A, Matschke J, Tiemann M, Goekkurt E, Heidtmann H, Vettorazzi E, Dierlamm J, Bokemeyer C, Schilling G
BRIT J HAEMATOL. 2013;161(1):87-94.
Molecular characterization of chromosomal band 5p15.33: a recurrent breakpoint region in mantle cell lymphoma involving the TERT-CLPTM1L locus.
Schilling G, Murga-Penas E, Janjetovic S, Oliveira Ferrer L, Balabanov M, Behrmann P, Bokemeyer C, Dierlamm J
LEUKEMIA RES. 2013;37(3):280-286.
Unusual course of myelodysplastic syndrome with presumed familial origin.
Bacher U, Ocheni S, Schafhausen P, Oyekunle A, Dierlamm J, Zander A, Bokemeyer C, Haferlach T, Kröger N
ACTA HAEMATOL-BASEL. 2011;126(4):234-237.
Functional p53 is required for effective execution of telomerase inhibition in BCR-ABL-positive CML cells.
Brassat U, Balabanov S, Bali D, Dierlamm J, Balabanov M, Hartmann U, Sirma H, Günes C, Wege H, Fehse B, Gontarewicz A, Dikomey E, Borgmann K, Brümmendorf T
EXP HEMATOL. 2011;39(1):62-66.
High level PSMA expression is associated with early PSA recurrence in surgically treated prostate cancer.
Minner S, Wittmer C, Graefen M, Salomon G, Steuber T, Haese A, Huland H, Bokemeyer C, Yekebas E, Dierlamm J, Balabanov S, Kilic E, Wilczak W, Simon R, Sauter G, Schlomm T
PROSTATE. 2011;71(3):281-288.
Forced activation of β-catenin signaling supports the transformation of hTERT-immortalized human fetal hepatocytes.
Wege H, Heim D, Lütgehetmann M, Dierlamm J, Lohse A, Brümmendorf T
MOL CANCER RES. 2011;9(9):1222-1231.
Establishment and characterization of a new human pancreatic adenocarcinoma cell line with high metastatic potential to the lung.
Kalinina T, Güngör C, Thieltges S, Möller-Krull M, Murga-Penas E, Wicklein D, Streichert T, Schumacher U, Kalinin V, Simon R, Otto B, Dierlamm J, Schwarzenbach H, Harms-Effenberger K, Bockhorn M, Izbicki J, Yekebas E
BMC CANCER. 2010;10:295.
Cytogenetic aberrations and their prognostic value in a series of 330 splenic marginal zone B-cell lymphomas: a multicenter study of the Splenic B-Cell Lymphoma Group.
Salido M, Baró C, Oscier D, Stamatopoulos K, Dierlamm J, Matutes E, Traverse-Glehen A, Berger F, Felman P, Thieblemont C, Gesk S, Athanasiadou A, Davis Z, Gardiner A, Milla F, Ferrer A, Mollejo M, Calasanz M, Florensa L, Espinet B, Luño E, Wlodarska I, Verhoef G, García-Granero M, Salar A, Papadaki T, Serrano S, Piris M, Solé F
BLOOD. 2010;116(9):1479-1488.
Essential role of MALT1 protease activity in activated B cell-like diffuse large B-cell lymphoma.
Hailfinger S, Lenz G, Ngo V, Posvitz-Fejfar A, Rebeaud F, Montserrat G, Murga-Penas E, Dierlamm J, Chan W, Staudt L, Thome M
P NATL ACAD SCI USA. 2009;106(47):19946-19951.
Risk factors for therapy-related myelodysplastic syndrome and acute myeloid leukemia treated with allogeneic stem cell transplantation.
Kröger N, Brand R, van Biezen A, Zander A, Dierlamm J, Niederwieser D, Devergie A, Ruutu T, Cornish J, Ljungman P, Gratwohl A, Cordonnier C, Beelen D, Deconinck E, Symeonidis A, de Witte T
HAEMATOLOGICA. 2009;94(4):542-549.
The t(14;18)(q32;q21)/IGH-MALT1 translocation in MALT lymphomas contains templated nucleotide insertions and a major breakpoint region similar to follicular and mantle cell lymphoma.
Murga-Penas E, Maria E, Callet-Bauchu E, Ye H, Gazzo S, Schilling G, Schilling G, Vettorazzi E, Vettorazzi E, Salles G, Wlodarska I, Bokemeyer C, Dierlamm J, Dierlamm J
BLOOD. 2009.
Development of AML with t(8;21)(q22;q22) and RUNX1-RUNX1T1 fusion following Philadelphia-negative clonal evolution during treatment of CML with Imatinib.
Schafhausen P, Dierlamm J, Bokemeyer C, Brümmendorf T, Bacher U, Zander A, Schnittger S, Hochhaus A
CANCER GENET-NY. 2009;189(1):63-67.
Gain of chromosome region 18q21 including the MALT1 gene is associated with the activated B-cell-like gene expression subtype and increased BCL2 gene dosage and protein expression in diffuse large B-cell lymphoma.
Dierlamm J, Murga-Penas E, Eva M, Bentink S, Wessendorf S, Berger H, Hummel M, Klapper W, Lenze D, Rosenwald A, Haralambieva E, Ott G, Cogliatti S, Möller P, Schwaenen C, Stein H, Löffler M, Spang R, Trümper L, Siebert R
HAEMATOLOGICA. 2008;93(5):688-696.
Tissue factor procoagulant activity of plasma microparticles in patients with cancer-associated disseminated intravascular coagulation.
Langer F, Spath B, Haubold K, Holstein K, Marx G, Wierecky J, Brümmendorf T, Dierlamm J, Bokemeyer C, Eifrig B
ANN HEMATOL. 2008;87(6):451-457.
Impact of genetic abnormalities on survival after allogeneic hematopoietic stem cell transplantation in multiple myeloma.
Schilling G, Hansen T, Shimoni A, Zabelina T, Pérez-Simón J, Simon-Perez J, Gutierrez N, Fiedler W, Liebisch P, Schwerdtfeger R, Bornhäuser M, Otterstetter S, Murga-Penas E, Dierlamm J, Ayuketang Ayuk F, Atanackovic D, Bacher U, Bokemeyer C, Zander A, San Miguel J, Miguel J, Nagler A, Kröger N
LEUKEMIA. 2008;22(6):1250-1255.
Primary hepatic lymphoma of mucosa-associated lymphoid tissue type: a case report with cytogenetic study.
Wafa K, Chaumette-Planckaert M, Murga-Penas E, Dierlamm J, Leroy K, Delfau M, Loriau J, Gaulard P, Delchier J, Zafrani E, Copie-Bergman C
INT J SURG PATHOL. 2008;16(3):301-307.
Blood outgrowth endothelial cells from chronic myeloid leukaemia patients are BCR/ABL1 negative.
Wellbrock J, Schultze A, Schafhausen P, Otterstetter S, Dierlamm J, Bokemeyer C, Brümmendorf T, Fiedler W, Loges S
BRIT J HAEMATOL. 2008;142(1):115-118.
Cancer-testis antigens are commonly expressed in multiple myeloma and induce systemic immunity following allogeneic stem cell transplantation.
Atanackovic D, Arfsten J, Cao Y, Gnjatic S, Schnieders F, Bartels K, Schilling G, Faltz C, Wolschke C, Dierlamm J, Ritter G, Eiermann T, Hossfeld D, Zander A, Jungbluth A, Old L, Bokemeyer C, Kröger N
BLOOD. 2007;109(3):1103-1112.
Absence of oncogenic transformation despite acquisition of cytogenetic aberrations in long-term cultured telomerase-immortalized human fetal hepatocytes.
Haker B, Fuchs S, Dierlamm J, Brümmendorf T, Wege H
CANCER LETT. 2007;256(1):120-127.
Accelerated and safe expansion of human mesenchymal stromal cells in animal serum-free medium for transplantation and regenerative medicine
Lange C, Cakiroglu F, Spiess A, Cappallo-Obermann H, Dierlamm J, Zander A
J CELL PHYSIOL. 2007;213(1):18-26.
The translocations t(6;18;11)(q24;q21;q21) and t(11;14;18)(q21;q32;q21) lead to a fusion of the API2 and MALT1 genes and occur in MALT lymphomas.
Murga-Penas E, Eva M, Callet-Bauchu E, Ye H, Albert N, Albert N, Copie-Bergman C, Gazzo S, Berger F, Bokemeyer C, Bokemeyer C, Dierlamm J, Dierlamm J
HAEMATOLOGICA. 2007;92(3):405-409.
Letzte Aktualisierung aus dem FIS: 28.11.2023 - 04:41 Uhr