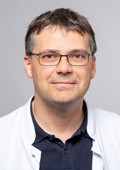 Prof. Dr. med.
Henning Wege
Deputy director of the department
Senior physician
Medical Specialist in Internal Medicine and Gastroenterology
Location
---
Main Building O10 , 2nd Floor, Room number 02.2.053.1
Areas of expertise
Hepatology

Intensive care medicine

Gastroenterology
Curriculum vitae
Awards
1999 Studienstiftung des deutschen Volkes, Promotionsstipendium

2001 American Association for the Study of Liver Diseases, AASLD Fellow Research Prize, Annual Meeting, Dallas, USA

2010 Hamburger Krankenanstalten, Martini-Stiftung, Dr. Erich Martini-Preis
Memberships
Seit 2003 Deutsche Arbeitsgemeinschaft zum Studium der Leber (GASL)

Seit 2005 European Association for the Study of the Liver (EASL)

Seit 2008 International Liver Cancer Association (ILCA)

Seit 2011 Deutsche Gesellschaft für Gastroenterologie, Verdauungs- und Stoffwechselerkrankungen (DGVS)

Seit 2011 Deutsche Krebsgesellschaft (DKG), Hamburger Krebsgesellschaft e.V.

Seit 2011 Arbeitsgemeinschaft Internistische Onkologie (AIO)
Publications
Heim D, Cornils K, Schulze K, Fehse B, Lohse AW, Brümmendorf TH, Wege H. Retroviral insertional mutagenesis in telomerase-immortalized hepatocytes identifies RIPK4 as novel tumor suppressor in human hepatocarcinogenesis. Oncogene 2015; 34: 385-393.

Ella E, Heim D, Stoyanov E, Harari-Steinfeld R, Steinfeld I, Pappo O, Schnitzer Perlman T, Nachmansson N, Rivkin L, Olam D, Abramovitch R, Wege H, Galun E, Goldenberg D. Specific genomic and transcriptomic aberrations in tumors induced by partial hepatectomy of a chronically inflamed murine liver. Oncotarget 2014; 15: 10318-10331.

Condiotti R, Goldenberg D, Giladi H, Schnitzer-Perlmann T, Waddington S, Buckley SMK, Heim D, Cheung W, Themis M, Coutelle C, Simerzin A, Osejindu E, Wege H, Themis M, Galun E. Transduction of fetal mice with a feline lentiviral vector induces liver tumors which exhibit an E2F activation signature. Mol Ther 2014; 22: 59-68.

Schulze K, Gasch C, Staufer K, Nashan B, Lohse AW, Pantel K, Riethdorf S*, Wege H*. Presence of EpCAM-positive circulating tumor cells as biomarker for systemic disease strongly correlates to survival in patients with hepatocellular carcinoma. Int J Cancer 2013; 133: 2165-2171.

Wege H, Heim D, Lütgehetmann M, Dierlamm J, Lohse AW, Brümmendorf TH. Forced activation of β-catenin signaling supports the transformation of hTERT-immortalized human fetal hepatocytes. Mol Cancer Res 2011; 9: 1222-1231.

Haker B, Fuchs S, Dierlamm J, Brümmendorf TH, Wege H. Absence of oncogenic transformation despite acquisition of cytogenetic aberrations in long-term cultured telomerase-immortalized human fetal hepatocytes. Cancer Lett 2007; 256: 120-127.

Wege H, Müller A, Müller L, Petri S, Petersen J, Hillert C. Regeneration in pig livers by compensatory hyperplasia induces high levels of telomerase activity. Comp Hepatol 2007; 6: 6.

Wege H, Chui MS, Le HT, Strom SC, Zern MA. In vitro expansion of human hepatocytes is restricted by telomere-dependent replicative aging. Cell Transplant 2003; 12: 897-906.

Wege H, Chui MS, Le HT, Tran JM, Zern MA. SYBR Green real-time telomeric repeat amplification protocol for the rapid quantification of telomerase activity. Nucleic Acids Res 2003; 31: E3.

Wege H, Le HT, Chui MS, Liu L, Wu J, Giri R, Malhi H, Sappal BS, Kumaran V, Gupta S, Zern MA. Telomerase reconstitution immortalizes human fetal hepatocytes without disrupting their differentiation potential. Gastroenterology 2003; 124: 432-444.