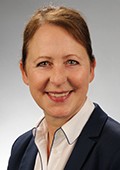 Dr. med.
Heidrun Lauke-Wettwer
Deputy equality commissioner for scientific staff
Medical Specialist in Anatomy
Location
---
N61 , 3rd Floor, Room number 314.2
Areas of expertise
Anatomy
Awards
Hamburger Lehrpreis 2015
Memberships
Anatomische Gesellschaft

Hamburger Krebsgesellschaft e.V.

Freundes- und Förderkreis des UKE e.V.
Publications
2019
Medizinische Fakultät: Frauenförderung und Gleichstellung im Wandel der Zeit
Lauke-Wettwer H, Mätschke E, Platzer U, Richter-Appelt H
2019. Respekt! Frauen verändern Wissenschaft an der Universität Hamburg. Filter D, Reich J (eds.). 1. ed. Hamburg: BoD Buchshop, 136 - 149.
2014
"Alkohol und Nikotin"-Konzept und Evaluation eines interdisziplinären Wahlfachs mit OSPE im Studienabschnitt Medizin 1
Bergelt C, Lauke-Wettwer H, Petersen-Ewert C, Jücker M, Bauer C
GMS J MED EDU. 2014;31(1):1-20.
2008
High level of endostatin in epididymal epithelium: protection against primary malignancies in this organ?
Tilki D, Kilic N, Herbst H, Reich O, Seitz M, Lauke-Wettwer H, Stief C, Ergün S
HISTOCHEM CELL BIOL. 2008;130(3):527-535.
2007
Lymphatic reprogramming of microvascular endothelial cells by CEA-related cell adhesion molecule-1 via interaction with VEGFR-3 and Prox1.
Kilic N, Oliveira-Ferrer L, Neshat-Vahid S, Irmak S, Obst-Pernberg K, Wurmbach J, Loges S, Kilic E, Weil J, Lauke-Wettwer H, Tilki D, Singer B, Ergün S
BLOOD. 2007;110(13):4223-4233.
Letzte Aktualisierung aus dem FIS: 06.02.2023 - 04:47 Uhr