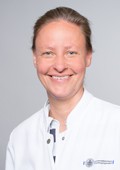 Priv.-Doz. Dr. med.
Beate Winkler
Oberärztin Station K1b
Hygiene expert
Medical Specialist in Pediatrics and Youth Medicine, with focus on Childrens' Hematology and Oncology
Location
---
O47 , 1st Floor, Room number 01.1.029.1
Languages
Deutsche Gebärdensprache (DGS)
Areas of expertise
Pediatric hematology and oncology

Palliative medicine
Publications
2022
Long-term survival of an adolescent glioblastoma patient under treatment with vinblastine and valproic acid illustrates importance of methylation profiling
Kresbach C, Bronsema A, Guerreiro H, Rutkowski S, Schüller U, Winkler B
CHILD NERV SYST. 2022;38(2):479-483.
2020
Successful Stem Cell Apheresis Using Spectra Optia in a 6 kg Child With Atypical Teratoid/Rhabdoid Tumor
Brust P, Schubert C, Blohm M, Winkler B
J PEDIAT HEMATOL ONC. 2020;42(7):e692-e695.
2019
Relapse of a group 4 medulloblastoma after 18 years as proven by histology and DNA methylation profiling
Ricklefs F, Fritzsche F, Winkler B, Meissner B, Dührsen L, Westphal M, Rutkowski S, Martens T, Schüller U
CHILD NERV SYST. 2019;35(6):1029-1033.
Comparison of Immune Reconstitution After Allogeneic Versus Autologous Stem Cell Transplantation in 182 Pediatric Recipients
Wiegering V, Eyrich M, Winkler B, Schlegel P
J PEDIAT HEMATOL ONC. 2019;41(5):e302-e307.
2018
Subgroup-specific immune and stromal microenvironment in medulloblastoma
Bockmayr M, Mohme M, Klauschen F, Winkler B, Budczies J, Rutkowski S, Schüller U
ONCOIMMUNOLOGY. 2018;7(9):e1462430.
Diffusionsgewichtete MRT und 18F-FDG-PET-CT bei Kindern mit mediastinalam Lymphom vor und nach zwei Zyklen Chemotherapie
Kupka M, Stoffels M, Regier M, Berliner C, Klutmann S, Winkler B, Groth M, Adam G, Herrmann J
ROFO-FORTSCHR RONTG. 2018;190(S 01):40-41.
Hypereosinophilia as Presenting Symptom of a Pre-B-ALL
Maier S, Zoghbi A, Escherich G, Winkler B
KLIN PADIATR. 2018;230(3):160-161.
Comparison of immune reconstitution after allogeneic versus autologous stem cell transplantation in 182 patients
Wiegering V, Eyrich M, Winkler B, Schlegel P
J PEDIAT HEMATOL ONC. 2018 [Epub ahead of print].
2017
Kaposiformes Hämangioendotheliom mit Kasabach-Merritt-Syndrom: erfolgreiche Therapie mit Sirolimus
Reichel A, Hamm H, Wiegering V, Wiewrodt B, Neubauer H, Ernestus K, Winkler B
J DTSCH DERMATOL GES. 2017;15(3):329-331.
Lineage switch under blinatumomab treatment of relapsed common acute lymphoblastic leukemia without MLL rearrangement
Zoghbi A, Zur Stadt U, Winkler B, Müller I, Escherich G
PEDIATR BLOOD CANCER. 2017;64(11):11.
2016
The minimum required level of donor chimerism in hereditary hemophagocytic lymphohistiocytosis
Hartz B, Marsh R, Rao K, Henter J, Jordan M, Filipovich L, Bader P, Beier R, Burkhardt B, Meisel R, Schulz A, Winkler B, Albert M, Greil J, Karasu G, Woessmann W, Corbaciologlu S, Gruhn B, Holter W, Kühl J, Lang P, Seidel M, Veys P, Löfstedt A, Ammann S, Ehl S, Janka G, Müller I, Lehmberg K
BLOOD. 2016;127(25):3281-90.
Letzte Aktualisierung aus dem FIS: 28.11.2022 - 03:33 Uhr