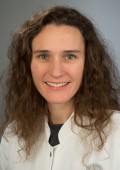 Dr.
Annika Bronsema
Medical Specialist in Pediatrics and Youth Medicine, with focus on Childrens' Hematology and Oncology
Areas of expertise
Pediatric hematology and oncology
Memberships
DGKJ, GPOH
Publications
2019
Osteonecrosis in children with acute lymphoblastic leukemia at initial diagnosis and prior to any chemotherapy
Krull K, Kunstreich M, Bronsema A, Bleckmann K, Classen C, Erdlenbruch B, Jorch N, Kolb R, Leipold A, Moser O, Prokop A, Scheurlen W, Steinbach D, Klasen-Sansone J, Klee D, Escherich G, Moericke A, Schrappe M, Borkhardt A, Kuhlen M
LEUKEMIA LYMPHOMA. 2019;60(1):78-84.
2017
Comprehensive Analysis of Hypermutation in Human Cancer
Campbell B, Light N, Fabrizio D, Zatzman M, Fuligni F, de Borja R, Davidson S, Edwards M, Elvin J, Hodel K, Zahurancik W, Suo Z, Lipman T, Wimmer K, Kratz C, Bowers D, Laetsch T, Dunn G, Johanns T, Grimmer M, Smirnov I, Larouche V, Samuel D, Bronsema A, Osborn M, Stearns D, Raman P, Cole K, Storm P, Yalon M, Opocher E, Mason G, Thomas G, Sabel M, George B, Ziegler D, Lindhorst S, Issai V, Constantini S, Toledano H, Elhasid R, Farah R, Dvir R, Dirks P, Huang A, Galati M, Chung J, Ramaswamy V, Irwin M, Aronson M, Durno C, Taylor M, Rechavi G, Maris J, Bouffet E, Hawkins C, Costello J, Meyn M, Pursell Z, Malkin D, Tabori U, Shlien A
CELL. 2017;171(5):1042-1056.e10.
Neurotoxic side effects in children with refractory or relapsed T-cell malignancies treated with nelarabine based therapy
Kuhlen M, Bleckmann K, Möricke A, Schrappe M, Vieth S, Escherich G, Bronsema A, Vonalt A, Queudeville M, Zwaan C, Ebinger M, Debatin K, Klingebiel T, Koscielniak E, Rossig C, Burkhardt B, Kolb R, Eckert C, Borkhardt A, von Stackelberg A, Chen-Santel C
BRIT J HAEMATOL. 2017;179(2):272-283.
2014
The PML domain of PML-RARα blocks senescence to promote leukemia
Korf K, Wodrich H, Haschke A, Ocampo C, Harder L, Gieseke F, Pollmann A, Dierck K, Prall S, Staege H, Ma H, Horstmann M, Evans R, Sternsdorf T
P NATL ACAD SCI USA. 2014;111(33):12133-8.
2005
Osteosarcoma cell lines display variable individual reactions on wildtype p53 and Rb tumour-suppressor transgenes.
Hellwinkel O, Müller J, Pollmann A, Kabisch H
J GENE MED. 2005;7(4):407-419.
2004
Limited specificity of promoter constructs for gene therapy in osteosarcoma.
Pollmann A, Kabisch H, Block A, Müller J, Hellwinkel O
INT J MOL MED. 2004;14(4):737-742.
Letzte Aktualisierung aus dem FIS: 19.01.2021 - 06:38 Uhr