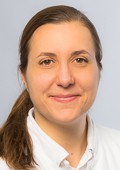 Dr. med.
Anna Perez
MPH
Medical Specialist in Pediatrics and Youth Medicine
Areas of expertise
Neonatology
Publications
2022
The Spaced Learning Concept in Combination With Halsted and Peyton - A Randomized Controlled Study
Le M, Boettcher J, Vincent D, Elrod J, Mietzsch S, Romero P, Perez A, Reinshagen K, Boettcher M
J SURG EDUC. 2022;79(5):1228-1236.
Thyroid function, thyroid antibodies and early postnatal development in neonates of mothers with thyroid disorders
Stoltefaut M, Fröschle G, Haddad M, Perez A, Blohm M, Deindl P, Singer D, Ebenebe C
EARLY HUM DEV. 2022;167:.
2021
Is hematopoietic stem cell transplantation a therapeutic option for mucolipidosis type II?
Ammer L, Pohl S, Breyer S, Aries C, Denecke J, Perez A, Petzoldt M, Schrum J, Müller I, Muschol N
MOL GENET METAB REP. 2021;26:.
P02.01 A strategy to personalize the use of radiation in patients with brain metastasis based on S100A9-mediated resistance
Miarka L, Monteiro C, Dalmasso C, Yebra N, Fustero-Torre C, Hegarty A, Keelan S, Goy Y, Mohme M, Caleiras E, Vareslija D, Young L, Soffietti R, Fernández-Alén J, Blasco G, Alcázar L, Sepúlveda J, Pérez A, Lain A, Siegfried A, Wikman H, Cohen-Jonathan Moyal E, Valiente M
NEURO-ONCOLOGY. 2021;23(Supplement_2):ii17-ii17.
Born Under COVID-19 Pandemic Conditions: Infant Regulatory Problems and Maternal Mental Health at 7 Months Postpartum
Perez A, Göbel A, Stuhrmann L, Schepanski S, Singer D, Bindt C, Mudra S
FRONT PSYCHOL. 2021;12(12):805543.
Experience of early motherhood during the first wave of the COVID-19 pandemic in Northern Germany: a single-centre before and after comparison
Perez A, Schepanski S, Göbel A, Stuhrmann L, Singer D, Bindt C, Mudra S
J REPROD INFANT PSYC. 2021 [Epub ahead of print];1-17.
Whole-Exome Sequencing in Critically Ill Neonates and Infants: Diagnostic Yield and Predictability of Monogenic Diagnosis
Scholz T, Blohm M, Kortüm F, Bierhals T, Lessel D, van der Ven A, Lisfeld J, Herget T, Kloth K, Singer D, Perez A, Obi N, Johannsen J, Denecke J, Santer R, Kubisch C, Deindl P, Hempel M
NEONATOLOGY. 2021;118(4):454-461.
Adults Born Preterm: Long-Term Health Risks of Former Very Low Birth Weight Infants
Singer D, Thiede L, Perez A
DTSCH ARZTEBL INT. 2021;118(31-32):521-527.
2020
Interleukin-6 elevation in healthy neonates
Ebenebe C, Boiger A, Perez A, Mathies F, Hecher K, Singer D
J PERINATOL. 2020;40(2):294-298.
Lost in Transition: Health Care Experiences of Adults Born Very Preterm - A Qualitative Approach
Perez A, Thiede L, Lüdecke D, Ebenebe C, von dem Knesebeck O, Singer D
FRONT PUBLIC HEALTH. 2020;8:605149.
What is the right temperature for a neonate?
Singer D, van der Meer F, Perez A
2020. Innovations and frontiers in neonatology. Herting E, Kiess W (eds.). Basel: Karger, 95-111.
2019
Target body temperature in very low birth weight infants: clinical consensus in place of scientific evidence
Perez A, van der Meer F, Singer D
FRONT PEDIATR. 2019;7:227.
2013
Long-term neurodevelopmental outcome with hypoxic-ischemic encephalopathy
Perez A, Ritter S, Brotschi B, Werner H, Caflisch J, Martin E, Latal B
J PEDIATR-US. 2013;454-9.
2012
Intermittent flushing improves cannula patency compared to continuous infusion for peripherally inserted venous catheters in newborns: results from a prospective observational study
Perez A, Feuz I, Brotschi B, Bernet V
J PERINAT MED. 2012;40(3):311-4.
2010
Effect of sedation and analgesia on postoperative amplitude-integrated EEG in newborn cardiac patients
Bernet V, Latal B, Natalucci G, Doell C, Ziegler A, Wohlrab G
PEDIATR RES. 2010;67(6):650-655.
Modern wound care for the poor: a randomized clinical trial comparing the vacuum system with conventional saline-soaked gauze dressings
Perez D, Bramkamp M, Exe C, von Ruden C, Ziegler A
AM J SURG. 2010;199(1):14-20.
Letzte Aktualisierung aus dem FIS: 05.02.2023 - 04:36 Uhr