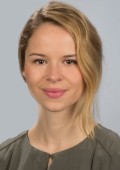 Location
---
Campus Forschung N27 , 2nd Floor, Room number 039
Publications
Implementation of a multidisciplinary infections conference affects the treatment plan in prosthetic joint infections of the hip:a retrospective study
Ntalos D, Berger-Groch J, Rohde H, Grossterlinden L, Both A, Luebke A, Hartel M, Klatte T
ARCH ORTHOP TRAUM SU. 2019;139(4):467-473.
Growth of Cutibacterium acnes is common on osteosynthesis material of the shoulder in patients without signs of infection
Both A, Klatte T, Lübke A, Büttner H, Hartel M, Grossterlinden L, Rohde H
ACTA ORTHOP. 2018;89(5):580-584.
Carbapenem-resistant Gram-negative pathogens in a German university medical Center: Prevalence, clinical implications and the role of novel β-lactam/β-lactamase inhibitor combinations
Katchanov J, Asar L, Klupp E, Both A, Rothe C, König C, Rohde H, Kluge S, Maurer F
PLOS ONE. 2018;13(4):e0195757.
Emergence of ceftazidime/avibactam non-susceptibility in an MDR Klebsiella pneumoniae isolate
Both A, Büttner H, Huang J, Perbandt M, Belmar Campos C, Christner M, Maurer F, Kluge S, König C, Aepfelbacher M, Wichmann D, Rohde H
J ANTIMICROB CHEMOTH. 2017;72(9):2483-2488.
Two-tier approach combining molecular and culture-based techniques for optimized detection of vancomycin-resistant enterococci
Both A, Franke G, Mirwald N, Lütgehetmann M, Christner M, Klupp E, Belmar Campos C, Büttner H, Aepfelbacher M, Rohde H
DIAGN MICR INFEC DIS. 2017;89(4):253-257.
The hypomorphic TERT A1062T variant is associated with increased treatment-related toxicity in acute myeloid leukemia
Both A, Krauter J, Damm F, Thol F, Göhring G, Heuser M, Ottmann O, Lübbert M, Wattad M, Kanz L, Schlimok G, Raghavachar A, Fiedler W, Kirchner H, Brugger W, Schlegelberger B, Heil G, Ganser A, Wagner K
ANN HEMATOL. 2017;96(6):895-904.
The metalloprotease SepA governs processing of accumulation-associated protein and shapes intercellular adhesive surface properties in Staphylococcus epidermidis
Paharik A, Kotasinska M, Both A, Hoang T, Büttner H, Roy P, Fey P, Horswill A, Rohde H
MOL MICROBIOL. 2017;103(5):860-874.
First report of Escherichia coli co-producing NDM-1 and OXA-232
Both A, Huang J, Kaase M, Hezel J, Wertheimer D, Fenner I, Günther T, Grundhoff A, Büttner H, Aepfelbacher M, Rohde H, Hentschke M
DIAGN MICR INFEC DIS. 2016;86(4):437-438.
Tedizolid susceptibility in linezolid- and vancomycin-resistant Enterococcus faecium isolates
Klupp E, Both A, Belmar Campos C, Büttner H, König C, Christopeit M, Christner M, Aepfelbacher M, Rohde H
EUR J CLIN MICROBIOL. 2016;35(12):1957-1961.
Sub-inhibitory tigecycline concentrations induce extracellular matrix binding protein Embp dependent Staphylococcus epidermidis biofilm formation and immune evasion
Weiser J, Henke H, Hector N, Both A, Christner M, Büttner H, Kaplan J, Rohde H
INT J MED MICROBIOL. 2016;306(6):471-478.
Letzte Aktualisierung aus dem FIS: 04.06.2020 - 06:05 Uhr