We are interested in the pathogenesis of staphylococcal infections, mainly focussing on implant-associated infections. Infections occurring after implantation of medical devices (e.g. prosthetic joints, central venous catheters, artificial heart valves) are a major cause of the ever increasing number of nosocomial infections. In Germany alone up to 100.000 infections per year are observed, significantly contributing to in-hospital morbidity and mortality.
Pathogens most frequently isolated during device-related infections are staphylococci, especially Staphylococcus epidermidis and Staphylococcus aureus. Both species organize multilayered bacterial consortia termed biofilms on artificial surfaces. Biofilm formation contributes to S. epidermidis and S. aureus pathogensis by protecting the bacteria from effector mechanisms of the host innate immune system and increasing resistance against antibiotics. By addressing molecular mechanisms involved in staphylococcal biofilm formation a future goal is to identify novel means to combat devastating staphylococcal infections.
Funding
Projects
Mechanisms involved in staphylococcal biofilm formation
Biofilm formation is a two step process including adherence of the bacteria to the surface to be colonized and subsequent assembly of a multi layered biofilm architecture. The latter phase depends on the expression of intercellular adhesins, stabilizing the biofilm consortium. We are currently interested in factors which functionally contribute to bacterial cell aggregation. By using genetic, biochemical and immunological approaches our focus lies on the analysis of a polysaccharide intercellular adhesin (PIA) which forms a complex extracellular matrix integrating staphylococci into the biofilm. In addition, intercellular protein adhesins like the accumulation associated protein (Aap) are substantially involved in biofilm formation. We have focused our present studies on Aap and additional cell surface associated proteins, aiming at elucidating molecular determinants contributing to their intercellular adhesive properties.
Fig. 1: Schematic representation of Staphylococcus epidermidis biofilm formation. Biofilms are formed in two pahese (primary attachment and accumulation). Both phases involve specific bacterial factors, e.g. surface proteins interacting wit host extracellular matrix proteins and intercellular adhesins.
Interactions of Staphylococcus epidermidis biofilms with host cells
Biofilm formation is a key virulence mechanism involved in S. epidermidis colonization of artificial (e.g. catheter) and natural (e.g. cardiac valve) surfaces. By using defined S. epidermidis mutants and purified cell surface components we address the question how specific bacterial factors contribute to interactions of S. epidermidis with host structures. We are interested in defining mechanisms involved in reduced susceptibility of S. epidermidis biofilms against uptake by host macrophages. Specifically, we are aiming at elucidating intercellular macrophage events that are associated with failure of phagocytes to eliminate S. epidermidis organized in a biofilm.
In addition, by using cell culture models for endovascular infections we focus on dynamics of S. epidermidis interactions with host endothelium structures which are thought to contribute to endocarditis pathogenesis. Specifically, were we ask how defined S. epidermidis surface proteins interact with host extracellular matrix structures, e.g. fibronectin.
Epidemiology of virulent staphylococcal populations
Both, Staphylococcus epidermidis and Staphylococcus aureus belong to the normal human skin flora. Consequently, staphyloccal infections are often endogenous. By analysis of staphylococcal populations from natural environments (e.g. the nose) and infections (e.g. catheter-related blood stream infections) we try to identify markers for increased invasive potential of defined staphylococcal clones. To this end, we apply molecular typing methods (pulsed field gel electrophoresis PFGE, multi locus sequence typing MLST, spa-typing) to characterize collections of staphylococcal isolates from defined isolation sites and search fro the presence of specific virulence associated gene patterns. In addition, we are interested in the development and validation of novel methods (for example by using MALDI-TOF MS) for rapid identification and characterization of clinical Staphylococcus epidermidis andStaphylococcus aureus isolates. In addition, we address molecular epidemiology of resistance mechanisms against antibiotics.
These studies could refine microbiologic diagnostic procedures, optimize antibiotic therapy strategies as well as identify suitable targets for vaccine development.
Staff • Group Rohde - Research lab N27, 02.032-033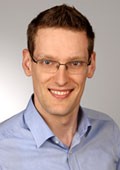 Dr. med.
Henning Büttner
Medical specialist in Microbiology, Virology and Infectious Disease Epidemiology
Location
---
Campus Forschung N27 , 2nd Floor