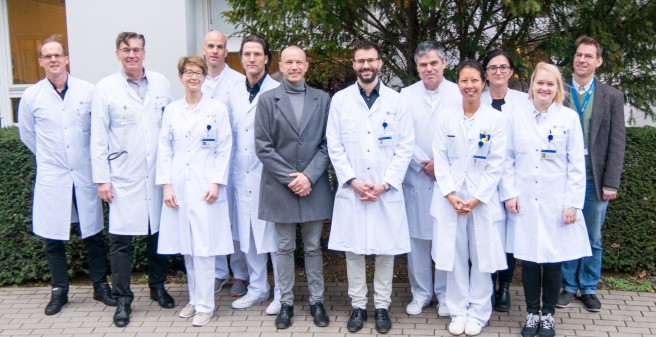 The Head-Neck Tumor Center warmly welcomes you
Head-neck carcinoma are a frequently diagnosed tumor entity. Cancer in the oral cavity and throat area are ranking fifth place for men according to Robert-Koch-Institute.
As head-neck tumor center in the UCCH we are specialized in all tumor entities in the head and neck area. Tumors in this area are for example tumors at the larynx, throat and oral cavity as well as nose, nasal sinusitis and salivary glands.
The following departments are part of the head-neck tumor center:
The current treatment for locally advanced tumors consists of an interdisciplinary and multimodal therapy approach. It contains usually a combination of surgery, radio chemo therapy or radioimmunotherapy, which is induced by a supportive induction therapy in distinct cases.
Through technological improvements surgical methods are now a lot gentler with tissue: robot-assisted methods make a removal of throat tumors possible not mutilating it. Also conservative therapies like the concomitant or sequential radio chemo therapy are playing a more and more important role for distinctive tumors as first treatments.
Besides the surgical therapy shall the conservative treatment of head-neck carcinoma be discussed regarding the indicators and limits of induction chemo therapy, concomitant radio chemo therapy and solitary radio therapy focusing on organ and function preservation.
Each therapy advice and treatment will be jointly decided on by all tumor specialists from otolaryngology, radiation therapy and internal oncology at an outpatient clinic on the same date.
In doing so, the physicians will be supported by specialists from pathology, radiation and other departments. It is essential for us that the patient gets integrated in the decision process, stating her or his wishes and that individual disease aspects are included.
Our main goal is, besides a timely, gentle and effective realization, in times of "high-performance medicine", that the patient is recognized as a human being with its sorrows and fears.
As an university facility working with the latest scientific findings is obligatory standard for us. Additionally, we are involved in national and international studies ourselves and offer trainings in the field for international physicians.
Personalized conservative therapy

Personalized conservative therapy
(Pharmaceutical therapy or chemo therapy; Induction chemo therapy; radio therapy)

The removal of the tumor is the most crucial goal in every treatment concept. Moreover, the preservation of the organ and its function (swallowing, speaking, and breathing) or the rehabilitation of these functions after a successful therapy has an immense value.

Is the tumor caused by its anatomic location or its expansion non-operable without destroying life quality influencing functions, a personalized therapy concept for the patient needs to be developed. The same holds for organ preservation. Especially patients with laryngeal carcinoma are affected. If a complete removal of the larynx is necessary due to the tumor's expansion, a organ preservative therapy methods should be chosen. A combination of radio therapy and chemo therapy individually adjusted to the patient's case is common.

When deciding on therapies we try to reduce side-effect of each therapy and to increase benefits. That way supportive therapies can in special cases avoid a surgery or reduce its dimension. When looking at head-neck tumors there is the possibility of a conservative therapy in principal. The expression "conservative" characterizes a therapy avoiding surgery after the diagnosis. The tumor will not be surgically removed but destroyed through a individual combination of pharmaceutical and radiation. The major advantage of this treatment is organ preservation, which for example regarding the larynx can mostly preserve its functionality. There is a division between a primary radio chemo therapy and an induction chemo therapy with a following radio chemo therapy.

Surgery and adjuvant therapy

Surgical and adjuvant therapy

A surgical therapy focusses the surgical removal of the tumor. In doing so, often not only the tumor will be removed but also the lymph nodes. Depending on the histological examination (cellular level) a radio therapy at the tumor region with or without pharmaceutical treatment might be necessary.

The advantage of this method is that the full extent of the tumor is visible and therefore a more precise therapy can be taken. In the context of open surgery we offer also divers reconstructive surgeries – from local and pedicle flaps to microvascular anastomose free flaps, helping plastic and functional reconstruction – which increase our tumor patients life quality up to the desired level.
Studies
Our center carries out national and international studies. Based on the interlocking of clinical work and rudimentary research – which goal it is to provide data for improved therapies – we are able to treat our patients very early with the latest scientific knowledge.
You can find the current overview on all open studies of the Head-Neck Tumor Center in our Trial Finder .
The Head-Neck Tumor Center is involved in national interdisciplinary working groups for defining and organizing studies in field of head and neck tumors. The head-neck-group of the EORTC ("European Organization for Research and Treatment of Cancer") recently started an initiative to establish a network with the goal to promote joint clinical and translational research on European level.
Outpatient clinics
For different head, neck, ear, mouth and face diseases we offer several outpatient clinics. In our tumor outpatient counsultancy we work jointly together with other specialists from the the UCCH using high specialized visualisations of the tumor to find the best treatment options for each individual patient of the Head-Neck Tumor Center.
Overview outpatient clinics
Interdisciplinary tumor outpatient clinic for head-neck tumors at the Clinic for Otolaryngology
Mondays 8am till 1:30pm by arrangement
O10, ground floor, Polyclinic for Otolaryngology
Registration: phone (040) 7410 – 52407
Responsible: Prof. Dr. med. Chr. Betz (HNO)
Further information (in German only)

Interdisciplinary tumor outpatient clinic for head-neck tumors at the Clinic for Oral and Maxillofacial Surgery
Mondays 8am till 1:30pm by arrangement
O10, ground floor, Clinic for Oral and Maxillofacial Surgery
Registration: phone (040) 7410 – 52260
Responsible: Prof. Dr. Dr. M. Gosau (MKG), Dr. M. Freytag (MKG)
Further information (in German only)
Additionally there is an interdisciplinary head-neck tumor outpatient clinic at the oncological outpatient clinic.
Further information
Patient information
We regularly organize patient days. Please inform yourself about the dates in our UCCH event calendar .
Further information