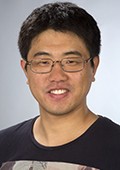 Location
---
W36 , 1st Floor, Room number 106
Publications
2020
A second cohort of CHD3 patients expands the molecular mechanisms known to cause Snijders Blok-Campeau syndrome
Drivas T, Li D, Nair D, Alaimo J, Alders M, Altmüller J, Barakat T, Bebin E, Bertsch N, Blackburn P, Blesson A, Bouman A, Brockmann K, Brunelle P, Burmeister M, Cooper G, Denecke J, Dieux-Coëslier A, Dubbs H, Ferrer A, Gal D, Bartik L, Gunderson L, Hasadsri L, Jain M, Karimov C, Keena B, Klee E, Kloth K, Lace B, Macchiaiolo M, Marcadier J, Milunsky J, Napier M, Ortiz-Gonzalez X, Pichurin P, Pinner J, Powis Z, Prasad C, Radio F, Rasmussen K, Renaud D, Rush E, Saunders C, Selcen D, Seman A, Shinde D, Smith E, Smol T, Snijders Blok L, Stoler J, Tang S, Tartaglia M, Thompson M, van de Kamp J, Wang J, Weise D, Weiss K, Woitschach R, Wollnik B, Yan H, Zackai E, Zampino G, Campeau P, Bhoj E
EUR J HUM GENET. 2020 [Epub ahead of print].
2019
Multimodal Memory Components and Their Long-Term Dynamics Identified in Cortical Layers II/III but Not Layer V
Li D, Wang G, Xie H, Hu Y, Guan J, Hilgetag C
Front Integr Neurosci. 2019;13:54.
Discrimination of the hierarchical structure of cortical layers in 2-photon microscopy data by combined unsupervised and supervised machine learning
Li D, Zavaglia M, Wang G, Xie H, Hu Y, Werner R, Guan J, Hilgetag C
SCI REP-UK. 2019;9(1):7424.
Letzte Aktualisierung aus dem FIS: 10.08.2020 - 06:54 Uhr