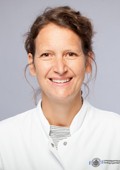 Dr. med.
Dorothee Krebs-Schmitt
Medical Specialist in Pediatrics and Youth Medicine
Areas of expertise
Hepatology
Publications
Outcome of liver transplantation and prevalence of liver fibrosis in Crigler-Najjar syndrome
Schröder H, Junge N, Herden U, Deutschmann A, Weidemann S, Krebs-Schmitt D, Grabhorn E
CLIN TRANSPLANT. 2021;35(4):.
Allogeneic haematopoietic stem cell transplantation eliminates alloreactive inhibitory antibodies after liver transplantation for bile salt export pump deficiency
Brinkert F, Pukite I, Krebs-Schmitt D, Briem-Richter A, Stindt J, Häussinger D, Keitel V, Müller I, Grabhorn E
J HEPATOL. 2018;69(4):961-965.
Letzte Aktualisierung aus dem FIS: 22.09.2023 - 04:54 Uhr