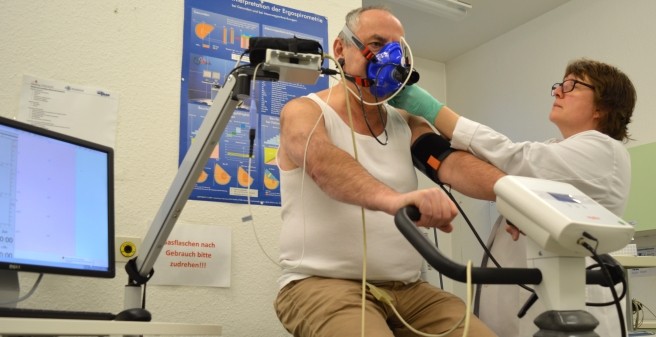 Patients with a wide variety of health disorders and risks are examined, possibly with the involvement of other medical disciplines. The focus is on occupational asthma, lung diseases and special health disorders caused by occupational and environmental substances. Almost all diagnostic examinations, e.g. differentiating cardiopulmonary, special allergological or toxicological examinations, the measurement of exhaled nitrogen monoxide (FeNO) including its changes after various occupational activities can be carried out on an outpatient basis at our institut. General and special preventive occupational health examinations as well as travel medicine consultations, e.g. for work stays abroad, are part of our services. An important concern for us is the improvement of prevention strategies in the working environment.
In the field of clinical occupational medicine, social court proceedings for the recognition of occupational diseases are a particular challenge. Here, fundamental and comprehensive interrelation questions have to be answered, taking into account the latest scientific literature.
In cooperation with the other working groups of the institute and with companies in Hamburg, the occupational medicine lectures, practice-related courses and company visits are carried out at the University Medical Center Eppendorf for about 200 medical students every semester.
The group Clinical Occupational Medicine regularly organizes advanced training courses, such as the lung function course, occupational medicine case discussions, and conferences on health protection at offshore wind turbines, on current clinical-scientific issues, and on health promotion.