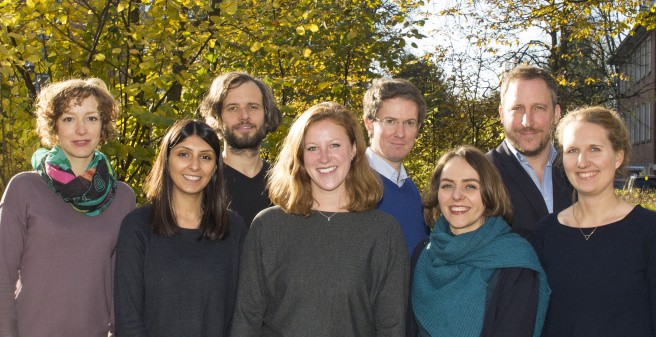 Multilingualism in outpatient mental health care services
Multilingualism in outpatient mental health care services
Sponsor: Chamber of Psychotherapists Hamburg, Medical Association Hamburg, Federal Chamber of Psychotherapists
Project Period: 02/2017 – 01/2019
Keywords: Multilingualism, interpreting services, language competencies, utilization
Project Description:
The number of refugees suffering from mental disorders is up to ten times higher than that of members of the majority in the society of the host country belonging to the same age group. Findings also suggest a higher prevalence of mental health problems in some migrant groups living in Germany. In addition to various cultural barriers between patients and (mental) health professionals, language barriers pose another major challenge to healthcare access.
Not all migrants and refugees suffering from psychological problems speak the German language well enough to properly communicate their intrapsychic, conflictual experiences. In order to overcome these language barriers, the incorporation of multilingual mental health professionals as well as qualified interpreters has been shown to be particularly effective.
With a focus on health services research, this study aims to find answers to three primary questions:
What proportion of patients in outpatient mental health care are refugees/ migrants?
What is the level of language diversity provided by psychiatrists and psychotherapists in outpatient mental health services?
To what extent are interpreters currently used in order to overcome language barriers, and what is the attitude towards working in such a triad?
The study is being conducted in the form of a census of all psychotherapists and all respective medical specialists working in outpatient psychiatric and psychotherapeutic services in the city state of Hamburg (N=1690). The data were obtained by a self-report questionnaire that was mailed to the study population.
The survey is part of a nationwide pilot project that aims to increase the quality of care for refugees and migrants suffering from mental health problems. It is based on a Key Issues Paper put forth by the Federal Chamber of Psychotherapists (Bundespsychotherapeutenkammer) and the German Medical Association (Bundesärztekammer). The goal of the project is to integrate more patients with limited German language proficiency into outpatient mental health services.
The pilot project addresses psychiatrists and psychotherapists working in outpatient care. They are provided with unbureaucratic yet quality-assured access to professional interpreters for the treatment of their patients. The costs for professional interpreters are covered by a fund. Furthermore, supervision and trainings for interpreters as well as for mental health professionals are offered on a regular basis.
The pilot project is funded by the Ministry of Health and Consumer Protection of the Free and Hanseatic City of Hamburg (Behörde für Gesundheit und Verbraucherschutz der Freien und Hansestadt Hamburg). The project is mainly executed by the NGO "SEGEMI Seelische Gesundheit • Migration und Flucht" in cooperation with the Chamber of Psychotherapists Hamburg (Psychotherapeutenkammer Hamburg) and the Hamburg Welfare Association (PARITÄTISCHEN Wohlfahrtsverband Hamburg). The research group on Migration and Psychosocial Health (MiPH) is evaluating the pilot project. More information about the project is available online under: http://www.segemi.org/sprachmittlerpool.html
Members of the Project team:
Mike Mösko, Dr. phil., Dipl.‐Psych., Project coordinator, mmoesko@uke.de
Maike Wagner, doctoral candidate in medicine, maike.wagner@stud.uke.uni-hamburg.de
Benjamin Schilgen, B.A. Pflege, M.Sc. Health Sciences, GuKP, Research Associate b.schilgen@uke.de