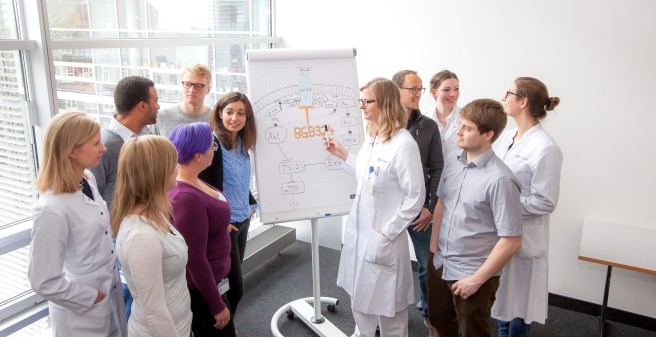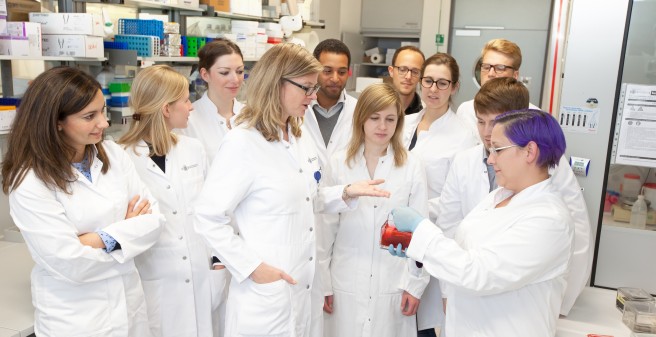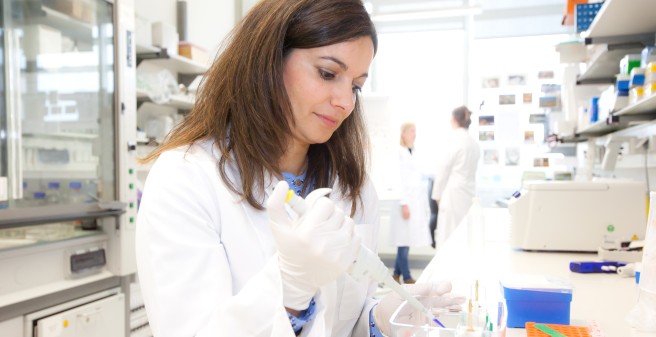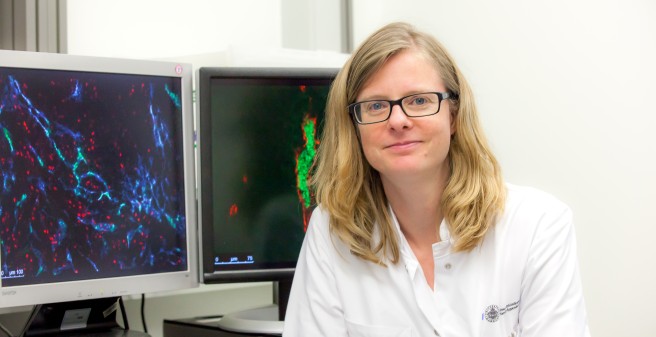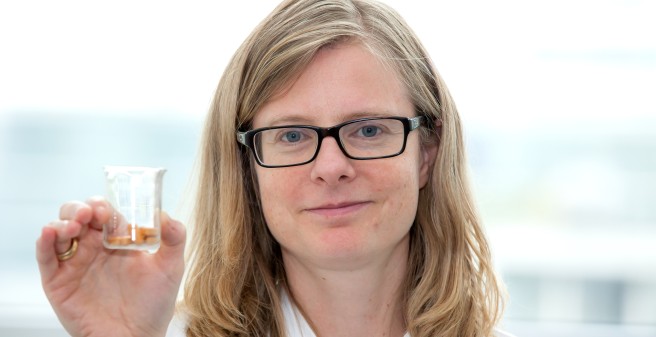 WG - Personalized Anti-Cancer Therapy Lab
Principal investigator: Sonja Loges M.D., Ph.D.
Recent advances in molecular biology deepened our understanding of cancer at the molecular level. Genes and proteins that are involved in the pathology of tumors greatly differ among patients and even the molecular profiles of similar tumor states show significant inter-patient variances.
The deeper knowledge about oncogenic drivers and pathways made it possible to tailor specific therapies for individual patients to minimize side effect and maximize therapeutic outcome. Therefore, the overall goal of our lab is to develop novel patient-oriented targeting therapies to fight cancer.
During the last years, our lab succeeded in identifying a therapeutic target suitable for personalized medicine and we could translate these findings into the development of a target-specific drug. We were able to show, that the receptor tyrosine kinase Axl and its ligand Gas6 play an important role in the pathology of acute myeloid leukemia as well as in other malignant diseases. Moreover, targeting this pathway with the small molecule Axl-inhibitor BGB324 exhibits a significant therapeutic effect and prolongs the life of leukemia-bearing mice. Encouraged by these results, we set up an international multi-center clinical trial evaluating this novel approach in leukemia patients (BGBC003). In the context of this study we are analyzing the mode of action of this novel compound in patients with the aim to identify biomarkers that predict therapy response.
We intensively work on the advancement of clinical and scientific strategies for personalized anti-cancer therapy. To achieve this aim, we focus on understanding the molecular interaction between tumor and host with a special emphasis on tumor-mediated induction of vessel growth and immunosuppression. By investigating these processes we identified additional therapeutic targets for personalized anti-cancer therapy. Another core topic is the analysis of potential biomarkers, in order to predict therapeutic response of individual patients. To reach this goal, we are working with patient material of Phase 3 multicenter trials. In summary, our most important objective is to improve personalized cancer care by linking basic research to the clinic.
Contact information
II. Medical Clinic and Policlinic Oncology, hematology, bone marrow transplantation with section pneumology
Campus Forschung (N27), room 074/075
University Hospital Hamburg-Eppendorf
Martinistr. 52
D-20246 Hamburg
Phone: (040) 7410 -51963
Fax: (040) 7410 -57187
Team:

Dr. rer. nat. Isabel Ben Batalla
Victoria Gensch
Dr. rer. nat. Corinna Albers-Leischner
Dr. rer. nat. Nuray Akyüz
Dr. med. Anne Marie Asemissen
Dr. med. Antonia Beitzen-Heineke
Nikolaus Berenbrok
Lisa-Marie Böttcher
Janik Engelmann
Lena Hoffmann
Melanie Janning
Lara Meier
Sarina Päsler
Dr. med. Jochim Reinert
Janina Schlüter
Florian Udonta
Maria Elena Vargas Degado
Janna Lisa Velthaus
Jonas Waizenegger