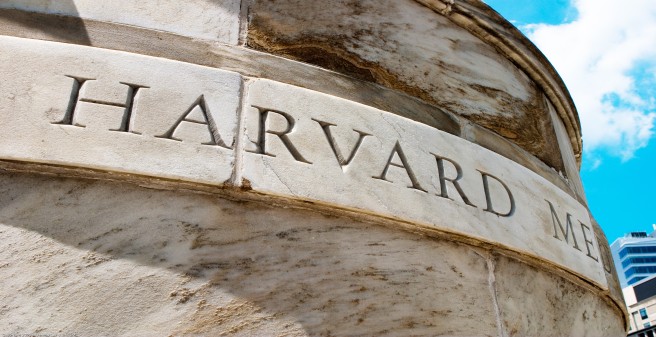 UCCH lecture series "Harvard meets UKE"
Innovations in our field have led to significant new developments in the diagnosis and therapy of hematological and oncological diseases and contribute significantly to improving the prognosis of our patients. In this context, scientific exchange between working groups, universities and academic institutions plays a central role. In the lecture series "Harvard meets UKE" we would like to strengthen this exchange and are pleased to regularly welcome experts from Harvard Medical School at UKE.
Event format:
In attendance or online
Lead:
Prof. Dr. med. Carsten Bokemeyer
Prof. Dr. med. Katja Weisel
Contact:
Dr. Natascha Kömm ( +49 (0) 40 7410 - 57932 , n.koemm@uke.de )
Previous topics of "Harvard meets UKE"
Precision medicine meets radiation oncology: Opportunities and obstacles (2023)

Dr. Henning Willers (02.03.2023)

Henning Willers, M.D. is a physician-scientist at Massachusetts General Hospital in Boston, Massachusetts, where he directs the Thoracic Radiation Oncology Service and the Radiation Biology Program in the Department of Radiation Oncology. He holds the academic appointment of an Associate Professor of Radiation Oncology at Harvard Medical School.Dr. Willers has a busy clinical practice centered around the care of patients with thoracic cancers while also spending time in the laboratory. He is active in clinical, physics, and biology research with the overarching goal of advancing precision radiation medicine, which combines the latest in biological therapies with high-precision radiation therapy to increase the likelihood of cure without complications in patients with lung cancer. A major current research focus is on identifying mechanisms and biomarkers of radioresistance. To this end, the Willers lab runs a unique robotic 3D screening platform for identifying molecular targeted radiosensitizers. Additional lab interests are in exploiting altered DNA repair pathways in lung cancers, for example through PARP inhibition or proton beam therapy. Lab-based data have thus far informed three early-phase clinical trials.

Early detection and interception of precursor myeloma (2023)

Dr. Irene Ghobrial (02.02.2023)

Irene Ghobrial, M.D. is a Professor of Medicine and Senior Physician at Dana-Farber Cancer Institute, Harvard Medical School and Lavine Family Chair for Preventative Cancer Therapies. Her clinical and laboratory research focuses on understanding mechanisms of disease progression from early precursor conditions, including monoclonal gammopathy of undetermined significance (MGUS) and smoldering myeloma (SMM) to overt Multiple Myeloma (MM). She is disrupting the cancer care model in myeloma by leading screening for early detection, developing novel biomarkers for risk stratification, and disrupting the treatment paradigm with innovative clinical trials in smoldering myeloma. She believes that her translational research efforts will change the way we detect and treat myeloma completely in the next few years.Dr. Ghobrial's passion is to rapidly translate laboratory findings to the clinic and to use samples from clinical trials to define better biomarkers of response/resistance to therapy. She has led over 15 investigator-initiated clinical trials and now focuses on developing multiple precision interception approaches in MGUS and SMM, mostly focusing on immunotherapy with vaccines, bispecific antibodies, and CAR-T or NK cell therapies with a common end goal, to eradicate myeloma before it starts.

Genomic driven treatment approaches for Waldenström's Macroglobulinemia (2022)

Dr. Steven Treon (13.04.2022)

Dr. Steven Treon is the Director of the Bing Center for Waldenström's Macroglobulinemia as well as an Attending Physician within the Department of Medical Oncology at the Dana-Farber Cancer Institute in Boston. He is also an Associate Professor of Medicine at Harvard Medical School and is the Chair of the Waldenström's Macroglobulinemia Clinical Trials Group. Dr. Treon's research focuses on understanding the genetic basis and pathogenesis of Waldenström's Macroglobulinemia as well as the development of therapeutics. He has published extensively and serves on the editorial boards of the Journal of Clinical Oncology, Blood, Clinical Cancer Research and The Lancet. He is a member of multiple professional societies, including the American Medical Association, the American Society of Hematology, the American Society of Clinical Oncolocy, the European Society of Hematology and the Massachusetts Medical Society.

The evolving therapeutic landscape for Multiple Myeloma (2022)

Dr. Noopur Raje (27.04.2022)

Dr. Noopur Raje is the Director of the Multiple Myeloma Program at Massachusetts General Hospital as well as a Professor of Medicine at Harvard Medical School. Her research focuses on understanding the biology of Multiple Myeloma and developing novel therapeutics for treatment especially immunotherapeutic approaches. Furthermore, Dr. Raje and her group do extensive work on elucidating resistance mechanisms especially after immunotherpeutic approaches. Dr. Raje was the lead author on the first paper reporting on the now approved new CAR-T cell treatment for relapsed and refractory Multiple Myeloma in the New England Journal of Medicine. She overall has published extensively in the field of Multiple Myeloma research and is an ad hoc reviewer for several journals, including: Blood, Clinical Cancer Research, Leukemia and the American Journal of Hematology.

The Development of BCR Pathway Inhibitors in CLL (2021)

Jennifer R. Brown (25.03.2021)

Jennifer R. Brown, MD, PhD is the Directorof the CLL Center of the Division of Hematologic Malignancies at Dana-Farber Cancer Institute and a Professor of Medicine at Harvard Medical School in Boston, Massachusetts. Dr. Brown's research interests include the developmentof novel targeted therapeutics for CLL, as well as CLL genomics. She has been instrumental in the clinical developmentof idelalisib and ibrutinib, leading to the irregulatory approvals in CLL. Her genomics work has characterized the somatic mutation profile of CLL, and she also has a longstanding research interest in the inherited predisposition to CLL. To date she has published about 250 papers in the scientific literature, predominantly in CLL. She is a member of the International Workshop on CLL (iwCLL) and enjoys a worldwide reputation as a CLL expert.

The Evolving Role of Novel and Next Generation Therapy in the Management of Newly Diagnosed Multiple Myeloma and Beyond: Current Status and Future Directions (2021)

Dr. Paul Richardson (15.04.2021)

Dr. Paul Richardson is the Clinical Program Leader and Director of Clinical Research at the Jerome Lipper Multiple Myeloma Center and RJ Corman Professor of Medicine at Harvard Medical School and has led the development of several first-generation novel drugs including bortezomib, lenalidomide and pomalidomide. More recently, his clinical innovations have been in the development of the breakthrough monoclonal antibodies elotuzumab and daratumumab for the treatment of both untreated and relapsed myeloma, as well asisatuximab and more broadly, antibody drug conjugates as well as other immunotherapeutic strategies. Furthermore he is leading the development of melflufen, a targeted cytotoxic and a first-in-class small molecule inhibitor selinexor, which inhibits XPO-1, a key nuclearexport protein. He has published extensively, having authored or co-authored over 380 original articles and 300 reviews, chapters and editorials in peer-reviewed journals. In addition to holding positions on the editorial boards of leading journals, he is member of several committees and alliances and has received numerous awards for his work.