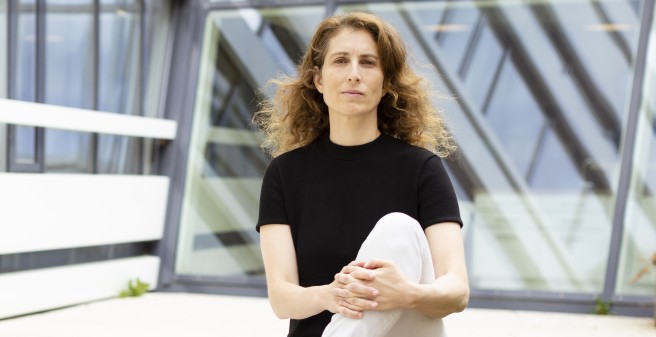 Arrival in Hamburg
Renowned scientist from Israel has accepted UKE-professorship
Professor Maya Topf has been conducting research at the Centre for Structural Systems Biology (CSSB) since 1 October 2020 upon appointment by the UKE and HPI. The native Israeli had previously worked at universities in Oxford, San Francisco and London. With her new team she will work on developing antiviral therapies.
It was love at first sight. Lushness wherever you look, rivers and canals throughout the city and plenty of space to take a deep breath. "For me, Hamburg is one of Europe's most beautiful cities," says Professor Dr Maya Topf with enthusiasm. She has been living in Othmarschen with her two children for almost a year. "I love all the water here and I love jogging along the Elbe," the 47-year-old reveals. Quite a statement for a woman like Maya Topf who has seen so much of the world and feels equally at home on San Francisco's sunny streets as on the breezy banks of the Thames in London.
She was born and grew up in Israel, not far from Tel Aviv, where she graduated with a Master's degree in chemistry. Then she departed to faraway places. In 2002, she obtained her PhD in computational chemistry at the University of Oxford. "At a very early stage, I became interested in the structure of proteins and macromolecular complexes. Computational chemistry uses computer simulation to gain a better understanding of protein structures," the scientist explains. In San Francisco she further pursued this endeavour, working as a post-doctoral fellow at the University of California. Back in England, she assembled her own group of researchers at the Birkbeck College of the University of London and became Professor of "Structural and Computational Biology" in 2016. With her research group she focused on infection research and developed computational methods to find out how viruses act in cells and how they can be stopped.
Hamburg calling
Professor Maya Topf did not hesitate long when the CSSB partners UKE and Leibniz Institute for Experimental Virology (HPI) offered her a W3 professorship. "I view being able to work scientifically at an interdisciplinary centre with various universities and the latest technology as a great opportunity to push my research forward," says Maya Topf. She is the head of the newly established research group Integrative Virology at CSSB on the DESY-Campus in Bahrenfeld. "Our goal is to decipher the attack mechanisms of pathogens at the atomic level in order to be able to design customised medication against them," Professor Maya elaborates. What does she particularly enjoy about her job? "Working with my PhD students and post-doctoral researchers is close to my heart." She is currently supervising seven post-doctoral researchers and five students from different parts of the world - from Europe, North Africa, Asia and Australia. "I enjoy exploring subjects with scientists from all over the world and generating findings." Engaging in international networks is also very inspiring to her.
New discoveries
Maya Topf has settled in well on the DESY campus. "It is fantastic that I can focus fully on virus research, and I have already found several new interesting cooperation partners." The professor hopes that teaching at the UKE can also resume in autumn. "I taught a lot in London and enjoyed it a lot. I miss that a little bit." She is learning German so she can have a proper say in things, as she says with a wink. Soon she will embark on her first stand-up paddling tour of Hamburg's Alster canals. That she could fall into the cold water does not put her off. After all, she also jumped into the Thames in Oxford to swim.