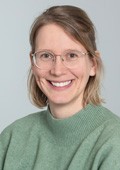 Dipl.-Psych.
Wiebke Geertz
Publications
2022
Child- and family-specific communication skills trainings for healthcare professionals caring for families with parental cancer: A systematic review
Frerichs W, Geertz W, Johannsen L, Inhestern L, Bergelt C
PLOS ONE. 2022;17(11):.
Belastungen bei Angehörigen von Krebserkrankten erkennen und versorgen
Johannsen L, Geertz W, Bergelt C, Inhestern L
InFo Hämatologie + Onkologie. 2022;25(6):15-18.
Parental Cancer: Acceptance and Usability of an Information Booklet for Affected Parents
Melchiors L, Geertz W, Inhestern L
FRONT PSYCHOL. 2022;13:.
2018
Parental cancer: Characteristics of users of child-centred counselling versus individual psycho-oncological treatment
Inhestern L, Geertz W, Schulz-Kindermann F, Bergelt C
PSYCHO-ONCOLOGY. 2018;27(3):955–961.
2017
Physical and Psychological Well-Being in Overweight Children Participating in a Long-Term Intervention Based on Judo Practice
Geertz W, Dechow A, Pohl E, Zyriax B, Ganschow R, Schulz K
Advances in Physical Education. 2017;7:85-100.
2015
Changes of Motivational Variables in Patients with Multiple Sclerosis in an Exercise Intervention: Associations between Physical Performance and Motivational Determinants
Geertz W, Dechow A, Patra S, Heesen C, Gold S, Schulz K
BEHAV NEUROL. 2015;2015:248193.
Letzte Aktualisierung aus dem FIS: 30.05.2023 - 04:17 Uhr