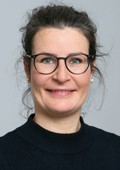 Publications
2022
Child- and family-specific communication skills trainings for healthcare professionals caring for families with parental cancer: A systematic review
Frerichs W, Geertz W, Johannsen L, Inhestern L, Bergelt C
PLOS ONE. 2022;17(11):.
The impact of cancer on the mental health of patients parenting minor children: A systematic review of the quantitative evidence
Johannsen L, Brandt M, Frerichs W, Inhestern L, Bergelt C
PSYCHO-ONCOLOGY. 2022;31(6):869-878.
2021
Evaluation of a program for routine implementation of shared decision-making in cancer care: results of a stepped wedge cluster randomized trial
Scholl I, Hahlweg P, Lindig A, Frerichs W, Zill J, Cords H, Bokemeyer C, Coym A, Schmalfeldt B, Smeets R, Vollkommer T, Witzel I, Härter M, Kriston L
IMPLEMENT SCI. 2021;16(1):.
2020
Assessing Competencies of Healthcare Professionals Caring for Parents With Cancer: The Development of an Innovative Assessment Tool
Johannsen L, Frerichs W, Inhestern L, Bergelt C
PSYCHO-ONCOLOGY. 2020;29(10):1670-1677.
Adaptation and qualitative evaluation of Ask 3 Questions - a simple and generic intervention to foster patient empowerment
Lindig A, Hahlweg P, Frerichs W, Topf C, Reemts M, Scholl I
HEALTH EXPECT. 2020;23(5):1310-1325.
2019
Assessment of patient information needs: A systematic review of measures
Christalle E, Zill J, Frerichs W, Härter M, Nestoriuc Y, Dirmaier J, Scholl I
PLOS ONE. 2019;14(1):e0209165.
Process-evaluation and outcome-evaluation of a training programme for healthcare professionals in oncology to enhance their competencies in caring for patients with minor children: a study protocol for a randomised controlled pilot study
Inhestern L, Frerichs W, Johannsen L, Bergelt C
BMJ OPEN. 2019;9(10):e032778.
2018
Psychoonkologische Versorgung in Deutschland: Bundesweite Bestandsaufnahme und Analyse: Wissenschaftliches Gutachten im Auftrag des Bundesministeriums für Gesundheit
Schulz H, Bleich C, Dabs M, Frerichs W, Sautier L, Bokemeyer C, Koch-Gromus U, Härter M
2018.
2016
Shared decision-making in oncology - A qualitative analysis of healthcare providers' views on current practice
Frerichs W, Hahlweg P, Müller E, Adis C, Scholl I
PLOS ONE. 2016;11(3):e0149789.
Letzte Aktualisierung aus dem FIS: 05.02.2023 - 04:35 Uhr