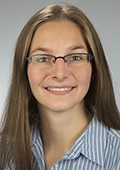 Dr. rer. nat.
Vera Freytag
M. Sc.
Location
---
N62 , Ground Floor, Room number 6
Curriculum vitae
Publications
2022
2021
2020
2019
2015
2013
Activation of CD44/PAK1/AKT signaling promotes resistance to FGFR1 inhibition in squamous-cell lung cancer
Elakad O, Häupl B, Labitzky V, Yao S, Küffer S, von Hammerstein-Equord A, Danner B, Jücker M, Urlaub H, Lange T, Ströbel P, Oellerich T, Bohnenberger H
NPJ PRECIS ONCOL. 2022;6(1):.
Tumor cell E-selectin ligands determine partialefficacy of bortezomib on spontaneous lung metastasis formation of solid human tumors in vivo
Lange T, Valentiner U, Wicklein D, Maar H, Labitzky V, Ahlers A, Starzonek S, Genduso S, Staffeldt L, Pahlow C, Dück A, Stürken C, Baranowsky A, Bauer A, Bulk E, Schwab A, Riecken K, Börnchen C, Kiefmann R, Abraham V, DeLisser H, Gemoll T, Habermann J, Block A, Pantel K, Schumacher U
MOL THER. 2022;30(4):1536-1552.
CHD1 loss negatively influences metastasis-free survival in R0-resected prostate cancer patients and promotes spontaneous metastasis in vivo
Oh-Hohenhorst S, Tilki D, Ahlers A, Suling A, Hahn O, Tennstedt P, Matuszcak C, Maar H, Labitzky V, Hanika S, Starzonek S, Baumgart S, Johnsen S, Kluth M, Sirma H, Simon R, Sauter G, Huland H, Schumacher U, Lange T
CANCER GENE THER. 2022;29(1):49-61.
Molecular characteristics and tumorigenicity of ascites-derived tumor cells: mitochondrial oxidative phosphorylation as a novel therapy target in ovarian cancer
Ding Y, Labitzky V, Legler K, Qi M, Schumacher U, Schmalfeldt B, Stürken C, Oliveira-Ferrer L
MOL ONCOL. 2021;15(12):3578-3595.
Site-specific N-glycosylation of integrin α2 mediates collagen-dependent cell survival
Huang Y, Liang C, Labitzky V, Ritz D, Oliveira T, Cumin C, Estermann M, Lange T, Everest-Dass A, Jacob F
ISCIENCE. 2021;24(10):.
GLS-driven glutamine catabolism contributes to prostate cancer radiosensitivity by regulating the redox state, stemness and ATG5-mediated autophagy
Mukha A, Kahya U, Linge A, Chen O, Löck S, Lukiyanchuk V, Richter S, Alves T, Peitzsch M, Telychko V, Skvortsov S, Negro G, Aschenbrenner B, Skvortsova I, Mirtschink P, Lohaus F, Hölscher T, Neubauer H, Rivandi M, Labitzky V, Lange T, Franken A, Behrens B, Stoecklein N, Toma M, Sommer U, Zschaeck S, Rehm M, Eisenhofer G, Schwager C, Abdollahi A, Groeben C, Kunz-Schughart L, Baretton G, Baumann M, Krause M, Peitzsch C, Dubrovska A
THERANOSTICS. 2021;11(16):7844-7868.
Opposing prognostic relevance of junction plakoglobin in distinct prostate cancer patient subsets
Spethmann T, Böckelmann L, Labitzky V, Ahlers A, Schröder-Schwarz J, Bonk S, Simon R, Sauter G, Huland H, Kypta R, Schumacher U, Lange T
MOL ONCOL. 2021;15(7):1956-1969.
The initial engraftment of tumor cells is critical for the future growth pattern: a mathematical study based on simulations and animal experiments
Hoffmann B, Lange T, Labitzky V, Riecken K, Wree A, Schumacher U, Wedemann G
BMC CANCER. 2020;20(1):524.
Modeling Spontaneous Bone Metastasis Formation of Solid Human Tumor Xenografts in Mice
Labitzky V, Baranowsky A, Maar H, Hanika S, Starzonek S, Ahlers A, Stübke K, Koziolek E, Heine M, Schäfer P, Windhorst S, Jücker M, Riecken K, Amling M, Schinke T, Schumacher U, Valentiner U, Lange T
CANCERS. 2020;12(2):.
Xenograft-derived mRNA/miR and protein interaction networks of systemic dissemination in human prostate cancer
Lange T, Samatov T, Galatenko V, Steffen P, von Kriegstein H, Spethmann T, Wicklein D, Maar H, Kupfernagel K, Labitzky V, Hanika S, Starzonek S, Ahlers A, Riecken K, Simon R, Polonski A, Sauter G, Schlomm T, Huland H, Johnsen S, Schlüter H, Tonevitsky A, Schumacher U
EUR J CANCER. 2020;137:93-107.
Systematic analysis of the human tumor cell binding to human vs. murine E- and P-selectin under static vs. dynamic conditions
Starzonek S, Maar H, Labitzky V, Wicklein D, Rossdam C, Buettner F, Wolters-Eisfeld G, Guengoer C, Wagener C, Schumacher U, Lange T
GLYCOBIOLOGY. 2020;30(9):695-709.
Use of Electrical Impedance Spectroscopy to Distinguish Cancer from Normal Tissues with a Four Electrode Terminal Setup
Teixeira V, Labitzky V, Schumacher U, Krautschneider W
Current Directions in Biomedical Engineering. 2020;2020(6):341 - 344.
Electrical Impedance Spectroscopy for Characterization of Prostate PC-3 and DU 145 Cancer Cells
Teixeira V, Barth T, Labitzky V, Schumacher U, Krautschneider W
Conf Proc IEEE Eng Med Biol Soc. 2019;2019:6485-6489.
Prognostic impact of transcription factor Fra-1 in ER-positive breast cancer: contribution to a metastatic phenotype through modulation of tumor cell adhesive properties
Oliveira-Ferrer L, Kürschner M, Labitzky V, Wicklein D, Müller V, Lüers G, Schumacher U, Milde-Langosch K, Schröder C
J CANCER RES CLIN. 2015;141(10):1715-26.
E- and p-selectins are essential for repopulation of chronic myelogenous and chronic eosinophilic leukemias in a scid mouse xenograft model
Wicklein D, Schmidt A, Labitzky V, Ullrich S, Valent P, Schumacher U
PLOS ONE. 2013;8(7):e70139.
Letzte Aktualisierung aus dem FIS: 04.12.2022 - 04:28 Uhr