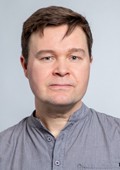 Dr. rer. nat.
Stefan Werner
Location
---
Campus Forschung N27 , 4th Floor, Room number 04.006
Publications
2021
DNA Damage Response during Replication Correlates with CIN70 Score and Determines Survival in HNSCC Patients
Bold I, Specht A, Droste C, Zielinski A, Meyer F, Clauditz T, Münscher A, Werner S, Rothkamm K, Petersen C, Borgmann K
CANCERS. 2021;13(6):.
2020
ALCAM contributes to brain metastasis formation in non-small-cell lung cancer through interaction with the vascular endothelium
Münsterberg J, Loreth D, Brylka L, Werner S, Karbanova J, Gandrass M, Schneegans S, Besler K, Hamester F, Robador J, Bauer A, Werner Schneider S, Wrage M, Lamszus K, Matschke J, Vashist Y, Uzunoglu G, Steurer S, Horst A, Oliveira-Ferrer L, Glatzel M, Schinke T, Corbeil D, Pantel K, Maire C, Wikman H
NEURO-ONCOLOGY. 2020;22(7):955-966.
2019
Biology and clinical relevance of EpCAM
Keller L, Werner S, Pantel K
Cell stress. 2019;3(6):165-180.
2017
PTEN mediates the cross talk between breast and glial cells in brain metastases leading to rapid disease progression
Hohensee I, Chuang H, Grottke A, Werner S, Schulte A, Horn S, Lamszus K, Bartkowiak K, Witzel I, Westphal M, Matschke J, Glatzel M, Jücker M, Pukrop T, Pantel K, Wikman H
ONCOTARGET. 2017;8(4):6155-6168.
Circulating Tumour Cell Release after Cement Augmentation of Vertebral Metastases
Mohme M, Riethdorf S, Dreimann M, Werner S, Maire C, Joosse S, Bludau F, Mueller V, Neves R, Stoecklein N, Lamszus K, Westphal M, Pantel K, Wikman H, Eicker S
SCI REP-UK. 2017;7(1):7196.
Tracing the Seeds in the Soil
Werner S, Pantel K
CLIN CHEM. 2017;63(11):1764-1765.
Expression of Epithelial Mesenchymal Transition and Cancer Stem Cell Markers in Circulating Tumor Cells
Werner S, Stenzl A, Pantel K, Todenhöfer T
ADV EXP MED BIOL. 2017;994:205-228.
2015
Suppression of early hematogenous dissemination of human breast cancer cells to bone marrow by retinoic acid induced 2
Werner S, Brors B, Eick J, Marques E, Pogenberg V, Parret A, Kemming D, Wood A, Edgren H, Neubauer H, Streichert T, Riethdorf S, Bedi U, Baccelli I, Jücker M, Eils R, Fehm T, Trumpp A, Johnsen S, Klefstrom J, Wilmanns M, Müller V, Pantel K, Wikman-Kocher H
CANCER DISCOV. 2015;5(5):506-19.
Iroquois homeobox 2 suppresses cellular motility and chemokine expression in breast cancer cells
Werner S, Stamm H, Pandjaitan M, Kemming D, Brors B, Pantel K, Wikman H
BMC CANCER. 2015;15(1):896.
2013
Dual roles of the transcription factor grainyhead-like 2 (GRHL2) in breast cancer
Werner S, Frey S, Riethdorf S, Schulze C, Alawi M, Kling L, Vafaizadeh V, Sauter G, Terracciano L, Schumacher U, Pantel K, Assmann V
J BIOL CHEM. 2013;288(32):22993-3008.
Letzte Aktualisierung aus dem FIS: 21.04.2021 - 07:21 Uhr