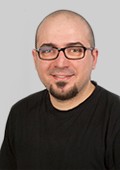 Dr. rer. nat.
Pasquale Cervero
PhD
Location
---
Campus Forschung N27 , 2nd Floor
Publications
Cargo-specific recruitment in clathrin- and dynamin-independent endocytosis
Moreno-Layseca P, Jäntti N, Godbole R, Sommer C, Jacquemet G, Al-Akhrass H, Conway J, Kronqvist P, Kallionpää R, Oliveira-Ferrer L, Cervero P, Linder S, Aepfelbacher M, Zauber H, Rae J, Parton R, Disanza A, Scita G, Mayor S, Selbach M, Veltel S, Ivaska J
NAT CELL BIOL. 2021 [Epub ahead of print].
Poji:a Fiji-based tool for analysis of podosomes and associated proteins
Herzog R, van den Dries K, Cervero P, Linder S
J CELL SCI. 2020;133(8):.
The podosome cap: past, present, perspective
Linder S, Cervero P
EUR J CELL BIOL. 2020;99(5):151087.
Lymphocyte-specific protein 1 regulates mechanosensory oscillation of podosomes and actin isoform-based actomyosin symmetry breaking
Cervero P, Wiesner C, Bouissou A, Poincloux R, Linder S
NAT COMMUN. 2018;9(1):515.
Podosome reformation in macrophages: assays and analysis
Cervero P, Panzer L, Linder S
Methods Mol Biol. 2013;1046:97-121.
Letzte Aktualisierung aus dem FIS: 17.10.2021 - 03:30 Uhr