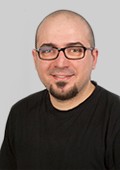 Dr. rer. nat.
Pasquale Cervero
PhD
Location
---
Campus Forschung N27 , 2nd Floor
Publications
Lymphocyte-specific protein 1 regulates mechanosensory oscillation of podosomes and actin isoform-based actomyosin symmetry breaking
Cervero P, Wiesner C, Bouissou A, Poincloux R, Linder S
NAT COMMUN. 2018;9(1):515.
Podosome reformation in macrophages: assays and analysis
Cervero P, Panzer L, Linder S
Methods Mol Biol. 2013;1046:97-121.
Letzte Aktualisierung aus dem FIS: 04.06.2020 - 06:05 Uhr