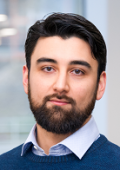 Publications
2023
Perspectives of nursing home executives on collaboration with GPs and specialist palliative care teams
Müller E, Vogel L, Nury E, Seibel K, Becker G
PFLEGE. 2023 [Epub ahead of print].
2022
Women's attitudes towards a human papillomavirus-based cervical cancer screening strategy: a systematic review
Nothacker J, Nury O, Roebl Mathieu M, Raatz H, Meerpohl J, Schmucker C
BMJ SEX REPROD HEAL. 2022;48(4):295-306.
Effects of nutritional intervention strategies in the primary prevention of overweight and obesity in school settings: systematic review and network meta-analysis
Nury O, Stadelmaier J, Morze J, Nagavci B, Grummich K, Schwarzer G, Hoffmann G, Angele C, Steinacker J, Wendt J, Conrad J, Schmid D, Meerpohl J, Schwingshackl L
BMJ Medicine. 2022;1(1):e000346.
A meta-research study of randomized controlled trials found infrequent and delayed availability of protocols
Schönenberger C, Griessbach A, Taji Heravi A, Gryaznov D, Gloy V, Lohner S, Klatte K, Ghosh N, Lee H, Mansouri A, Marian I, Saccilotto R, Nury O, Busse J, von Niederhäusern B, Mertz D, Blümle A, Odutayo A, Hopewell S, Speich B, Briel M
J CLIN EPIDEMIOL. 2022;149:45-52.
Nonregistration, discontinuation, and nonpublication of randomized trials: A repeated metaresearch analysis
Speich B, Gryaznov D, Busse J, Gloy V, Lohner S, Klatte K, Taji Heravi A, Ghosh N, Lee H, Mansouri A, Marian I, Saccilotto R, Nury O, Kasenda B, Ojeda-Ruiz E, Schandelmaier S, Tomonaga Y, Amstutz A, Pauli-Magnus C, Bischoff K, Wollmann K, Rehner L, Meerpohl J, Nordmann A, Wong J, Chow N, Hong P, Mc Cord-De Iaco K, Sricharoenchai S, Agarwal A, Schwenkglenks M, Hemkens L, von Elm E, Copsey B, Griessbach A, Schönenberger C, Mertz D, Blümle A, von Niederhäusern B, Hopewell S, Odutayo A, Briel M
PLOS MED. 2022;19(4):.
Letzte Aktualisierung aus dem FIS: 22.09.2023 - 04:37 Uhr