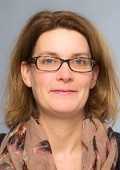 Dr. rer. nat. Dipl.-Biochem.
Natalie Reimers
Scientist
Project management
Location
---
Seewartenstraße 10, Haus 1 , 1st Floor, Room number 1.11
Publications
2022
Asbestbedingte Berufserkrankungen - Ist der Gipfel der Inzidenz überschritten?
Preisser A, Pieter J, Hampel E, Reimers N, Harth V
PNEUMOLOGIE. 2022;76:425-441.
2020
Circulating DNA and other biomarker for early diagnosis: Great potential, but challenges recognized
Babayan A, Reimers N, Pantel K
2020. World Cancer Report. Wild C, Weiderpass E, Stewart B (eds.). 1. ed. Lyon: World Health Organization, 550 -556.
2019
Möglichkeiten und Grenzen von Liquid Biopsy
Pantel K, Reimers N
Osteoporose, Orthopädie &Rheuma aktuell. 2019;2019(4):.
Liquid biopsy: novel technologies and clinical applications
Reimers N, Pantel K
CLIN CHEM LAB MED. 2019;57(3):312-316.
2018
Aktuelles zur Liquid Biopsy
Reimers N, Hille C, Pantel K
InFo Onkologie. 2018;21(Suppl. 1):24-29.
2017
Evaluation of the pharmacokinetic-pharmacodynamic relationship of praziquantel in the Schistosoma mansoni mouse model
Abla N, Keiser J, Vargas M, Reimers N, Haas H, Spangenberg T
PLOS NEGLECT TROP D. 2017;11(9):e0005942.
2015
Drug-induced exposure of Schistosoma mansoni antigens SmCD59a and SmKK7
Reimers N, Homann A, Höschler B, Langhans K, Wilson R, Pierrot C, Khalife J, Grevelding C, Chalmers I, Yazdanbakhsh M, Hoffmann K, Hokke C, Haas H, Schramm G
PLOS NEGLECT TROP D. 2015;9(3):e0003593.
Letzte Aktualisierung aus dem FIS: 30.06.2022 - 03:59 Uhr