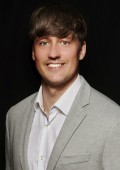 Location
---
Quartier am Zeughaus, Christoph-Probst-Weg 1, 20251 Hamburg, 4th Floor, Room number 04.1.018
Areas of expertise
Epidemiology
Curriculum vitae
Memberships
- Deutsche Gesellschaft für Epidemiologie (DGEpi)

- Deutsche Gesellschaft für Medizinische Informatik, Biometrie und Epidemiologie (GMDS)

- Deutsche Gesellschaft für Public Health (DGPH)
Publications
2023
Subjective Cognitive Decline Is Associated with Health-Related Quality of Life in the Middle-Aged to Elderly Population
Königsberg A, Belau M, Ascone L, Gallinat J, Kühn S, Jensen M, Gerloff C, Cheng B, Thomalla G
J ALZHEIMERS DIS. 2023;91(1):427-436.
2022
The use and applicability of Internet search queries for infectious disease surveillance in low- to middle- income countries
Beckhaus J, Becher H, Belau M
One Health Implement Res. 2022;2:15-28.
Frequent Cannabis Use Moderates the Relationship Between Sexual Dysfunction and Depression Among Female German Adults
Belau M, Wiessner C, Becher H, von Rüden U, Briken P
J SEX MED. 2022;19(6):940-949.
Randomised controlled trial testing the feasibility of an exercise and nutrition intervention for patients with ovarian cancer during and after first-line chemotherapy (BENITA-study)
Maurer T, Belau M, von Grundherr J, Schlemmer Z, Patra S, Becher H, Schulz K, Zyriax B, Schmalfeldt B, Chang-Claude J
BMJ OPEN. 2022;12(2):.
2021
Body mass index and associated factors among refugees living in North Rhine-Westphalia, Germany: a cross-sectional study
Belau M, Bassil M, Laukamp A, Kraemer A
BMC NUTR. 2021;7(1):.
Impact of Family Separation on Subjective Time Pressure and Mental Health in Refugees from the Middle East and Africa Resettled in North Rhine-Westphalia, Germany: A Cross-Sectional Study
Belau M, Becher H, Kraemer A
INT J ENV RES PUB HE. 2021;18(21):.
Loneliness as a mediator of social relationships and health-related quality of life among refugees living in North Rhine-Westphalia, Germany
Belau M, Becher H, Kraemer A
BMC PUBLIC HEALTH. 2021;21(1):2233.
2019
Prädiktoren der Inanspruchnahme ambulanter medizinischer Leistungen älterer Erwachsener mit einer Arthrose, rheumatoiden Arthritis oder Osteoporose
Belau M, Razum O, Fuchs J
GESUNDHEITSWESEN. 2019;81(11):893-901.
2018
Estimating lung cancer mortality attributable to second hand smoke exposure in Germany
Becher H, Belau M, Winkler V, Aigner A
INT J PUBLIC HEALTH. 2018;63:367–375.
Letzte Aktualisierung aus dem FIS: 31.01.2023 - 04:21 Uhr