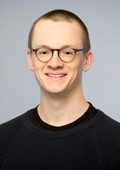 Lukas Lange-Drenth
M. Sc.
Publications
2019
The extent to which cancer patients trust in cancer-related online information: a systematic review
Lange L, Peikert M, Bleich C, Schulz H
PEERJ. 2019.
Views of psycho-oncologists, physicians, and nurses on cancer care—A qualitative study
Steven B, Lange L, Bleich C, Schulz H
PLOS ONE. 2019;14(1):e0210325.
2018
E-Health-Angebote in der Onkologie
Lange L, Schulz H, Bleich C
ONKOLOGE. 2018;24(5):406-410.
2017
Effectiveness, acceptance and satisfaction of guided chat groups in psychosocial aftercare for outpatients with prostate cancer after prostatectomy
Lange L, Fink J, Bleich C, Graefen M, Schulz H
Internet Interv. 2017;9:57-64.
Letzte Aktualisierung aus dem FIS: 24.10.2020 - 06:31 Uhr