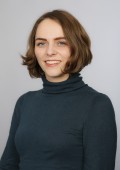 Jessica Terese Mueller
M.A.-Psych., M.A.
Areas of expertise
Psychology
Memberships
International Association for Languages and Intercutltural Communication (IALIC)
Publications
2020
Are multilinguals the better academic ELF users? Evidence from a questionnaire study measuring self-assessed proficiencies
Siemund P, Mueller J
2020. Language Change: The impact of English as a Lingua Franca. Mauranen A (eds.). John Benjamins Publishing Company, .
2019
Book Review: Rabe, Frank: Englischsprachiges Schreiben und Publizieren in verschiedenen Fachkulturen: Wie deutschsprachige Forscher mit der Anglisierung der Wissenschaftskommunikation umgehen
Mueller J
Journal of English as a Lingua Franca. 2019;2019(8(1)):167 - 172.
Randomized controlled trial of the Circle of Security-Intensive intervention for mothers with postpartum depression: maternal unresolved attachment moderates changes in sensitivity
Ramsauer B, Mühlhan C, Lotzin A, Achtergarde S, Mueller J, Krink S, Tharner A, Becker-Stoll F, Nolte T, Romer G
Attach Hum Dev. 2019 [Epub ahead of print];1-22.
2018
English as a lingua franca at the multilingual university: a comparison of monolingually and multilingually raised students and instructors
Mueller J
2018. Foreign Language Education in Multilingual Classrooms. Bonnet A, Siemund P (eds.). 1. ed. Amsterdam: John Benjamins Publishing Company, 359 - 380.
Training in community interpreting: a systematic review of evaluated programmes
Mueller J, Breitsprecher C, Schulz H, Mösko M
EUR J PUBLIC HEALTH. 2018;28(1):70 - 71.
2017
Mehrsprachigkeit in der nachhaltigen Universität. Projektbericht

Projektbericht. Hamburg: Universität Hamburg. 2017.
2016
Parenting stress and postpartum depression/anxiety in mothers with personality disorders: indications for differntial intervention priorities
Ramsauer B, Mühlhan C, Mueller J, Schulte-Markwort M
EUR CHILD ADOLES PSY. 2016;25(6):589 - 600.
Letzte Aktualisierung aus dem FIS: 19.10.2020 - 06:52 Uhr