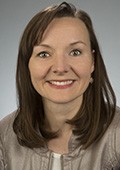 Dr. rer. nat.
Britta Fritzsche
Location
---
O43 , 1st Floor, Room number 103
Memberships
Deutsche Krebsgesellschaft

Deutsche Gesellschaft für Allgemein- und Viszeralchirurgie
Publications
2021
Bone Marrow-Resident Vδ1 T Cells Co-express TIGIT With PD-1, TIM-3 or CD39 in AML and Myeloma
Brauneck F, Weimer P, Schulze zur Wiesch J, Weisel K, Leypoldt L, Vohwinkel G, Fritzsche B, Bokemeyer C, Wellbrock J, Fiedler W
FRONT MED-LAUSANNE. 2021;8:763773.
2015
Increased cathepsin D protein expression is a biomarker for osteosarcomas, pulmonary metastases and other bone malignancies
Gemoll T, Epping F, Heinrich L, Fritzsche B, Roblick U, Szymczak S, Hartwig S, Depping R, Bruch H, Thorns C, Lehr S, Paech A, Habermann J
ONCOTARGET. 2015;6(18):16517-26.
2013
Aneuploidy-associated gene expression signatures characterize malignant transformation in ulcerative colitis
Gerling M, Nousiainen K, Hautaniemi S, Krüger S, Fritzsche B, Homann N, Bruch H, Auer G, Roblick U, Ried T, Habermann J
INFLAMM BOWEL DIS. 2013;19(4):691-703.
2010
CYP26A1-specific antagonist influence on embryonic implantation, gene expression and endogenous retinoid concentration in rats
Fritzsche B, Schuchardt J, Schmidt A, Nau H, Schweigert F, Rühl R
REPROD TOXICOL. 2010;30(3):446-51.
High Frequency of Aneuploidy Defines Ulcerative Colitis-Associated Carcinomas: A Prognostic Comparison to Sporadic Colorectal Carcinomas
Gerling M, Meyer K, Fuchs K, Igl B, Fritzsche B, Ziegler A, Bader F, Kujath P, Schimmelpenning H, Bruch H, Roblick U, Habermann J
ANN SURG. 2010;252(1):74-83.
2008
From the genome to the proteome--biomarkers in colorectal cancer
Habermann J, Bader F, Franke C, Zimmermann K, Gemoll T, Fritzsche B, Ried T, Auer G, Bruch H, Roblick U
LANGENBECK ARCH SURG. 2008;393(1):93-104.
Retinoid receptor-activating ligands are produced within the mouse thymus during postnatal development
Kiss I, Rühl R, Szegezdi E, Fritzsche B, Tóth B, Pongrácz J, Perlmann T, Fésüs L, Szondy Z
EUR J IMMUNOL. 2008;38(1):147-55.
2007
Regulation of expression of the retinoic acid metabolizing enzyme CYP26A1 in uteri of ovariectomized mice after treatment with ovarian steroid hormones
Fritzsche B, Vermot J, Neumann U, Schmidt A, Schweigert F, Dollé P, Rühl R
MOL REPROD DEV. 2007;74(2):258-64.
2006
Regulation of expression of the retinoic acid-synthesising enzymes retinaldehyde dehydrogenases in the uteri of ovariectomised mice after treatment with oestrogen, gestagen and their combination
Rühl R, Fritzsche B, Vermot J, Niederreither K, Neumann U, Schmidt A, Schweigert F, Dollé P
REPROD FERT DEVELOP. 2006;18(3):339-45.
Letzte Aktualisierung aus dem FIS: 29.09.2023 - 04:47 Uhr