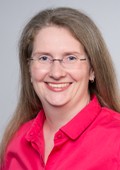 Dr. rer. nat.
Anika Buchholz
Location
---
Quartier am Zeughaus, Christoph-Probst-Weg 1, 20251 Hamburg, 4th Floor, Room number 04.1.023
Areas of expertise
Medical Biometry
Curriculum vitae
Memberships
Deutsche Region der Internationalen Biometrischen Gesellschaft (IBS-DR)
Publications
2021
Prognostic markers of all-cause mortality in patients with atrial fibrillation: data from the prospective long-term registry of the German Atrial Fibrillation NETwork (AFNET)
Nabauer M, Oeff M, Gerth A, Wegscheider K, Buchholz A, Haeusler K, Hanrath P, Meinertz T, Ravens U, Sprenger C, Tebbe U, Vettorazzi E, Kirchhof P, Breithardt G, Steinbeck G
EUROPACE. 2021 [Epub ahead of print].
2020
Who is shocked and who survives? A multi-state analysis of the NORDIC ICD trial
Gronefeld G, Buchholz A, Boecker D, Klein G, Butter C, Suling A, Felk A, Hauser T, Baensch D, Wegscheider K
EUR HEART J. 2020;41(2):.
Biperiden and mepazine effectively inhibit MALT1 activity and tumor growth in pancreatic cancer
Konczalla L, Perez D, Wenzel N, Wolters-Eisfeld G, Klemp C, Lüddeke J, Wolski A, Landschulze D, Meier C, Buchholz A, Yao D, Hofmann B, Graß J, Spriestersbach S, Grupp K, Schumacher U, Betzel C, Kapis S, Nuguid T, Steinberg P, Püschel K, Sauter G, Bockhorn M, Uzunoglu F, Izbicki J, Güngör C, El Gammal A
INT J CANCER. 2020;146(6):1618-1630.
2018
Shock efficacy of single and dual coil electrodes-new insights from the NORDIC ICD Trial
Bänsch D, Bonnemeier H, Brandt J, Bode F, Svendsen J, Ritter O, Aring J, Gutleben K, Schneider R, Felk A, Hauser T, Buchholz A, Hindricks G, Wegscheider K
EUROPACE. 2018;20(6):971–978.
Voxel based analysis of recurrence dynamics in intracranial aneurysms after coiling
Ernst M, Buchholz A, Bourcier R, Desal H, Le Floch P, Möhlenbruch M, Bendszus M, Fiehler J
J NEUROINTERV SURG. 2018;10(6):571-576.
Nurse-work instability and incidence of sick leave - results of a prospective study of nurses aged over 40
Klein M, Wobbe-Ribinski S, Buchholz A, Nienhaus A, Schablon A
J OCCUP MED TOXICOL. 2018;13:31.
Adaptive servo-ventilation to treat central sleep apnea in heart failure with reduced ejection fraction: the Bad Oeynhausen prospective ASV registry
Oldenburg O, Wellmann B, Bitter T, Fox H, Buchholz A, Freiwald E, Horstkotte D, Wegscheider K
CLIN RES CARDIOL. 2018;107(8):719-728.
2017
Effects of adaptive servoventilation to treat central sleep apnea in heart failure patients with reduced ejection fraction on exercise capacity and mortality: the Bad Oeynhausen ASV Registry
Oldenburg O, Buchholz A, Wellmann B, Bitter T, Fox H, Freiwald E, Horstkotte D, Wegscheider K
2017. European Heart Journal. 1. ed. Oxford Academic, 5116.
DECADE-pilot: decision aid, action planning, and follow-up support for patients to reduce the 10-year risk of cardiovascular diseases-a protocol of a randomized controlled pilot trial
Tinsel I, Siegel A, Schmoor C, Buchholz A, Niebling W
Pilot Feasibility Stud. 2017;3:32.
2016
Nocturnal hypoxaemia is associated with increased mortality in stable heart failure patients
Oldenburg O, Wellmann B, Buchholz A, Bitter T, Fox H, Thiem U, Horstkotte D, Wegscheider K
EUR HEART J. 2016;37(21):1695-1703.
Enhanced Effective Connectivity Between Primary Motor Cortex and Intraparietal Sulcus in Well-Recovered Stroke Patients
Schulz R, Buchholz A, Frey B, Bönstrup M, Cheng B, Thomalla G, Hummel F, Gerloff C
STROKE. 2016;47(2):482-489.
Improving the Prognostic Ability through Better Use of Standard Clinical Data - The Nottingham Prognostic Index as an Example
Winzer K, Buchholz A, Schumacher M, Sauerbrei W
PLOS ONE. 2016;11(3):e0149977.
2015
Pädiatrische Einschätzung von elterlichen Belastungen und Unterstützungsbedarf: Der Pädiatrische Anhaltsbogen im Praxistest
Belzer F, Kleinert L, Buchholz A, Mall V, Barth M
Prävention Gesundheitsförderung. 2015;10(4):314-319.
Cardiomyopathy in Duchenne Muscular Dystrophy: Current Value of Clinical, Electrophysiological and Imaging Findings in Children and Teenagers
Dittrich S, Tuerk M, Haaker G, Greim V, Buchholz A, Burkhardt B, Fujak A, Trollmann R, Schmid A, Schroeder R
KLIN PADIATR. 2015;227(4):225-31.
On stability issues in deriving multivariable regression models
Sauerbrei W, Buchholz A, Boulesteix A, Binder H
BIOMETRICAL J. 2015;57(4):531-55.
2014
A measure for assessing functions of time-varying effects in survival analysis
Buchholz A, Sauerbrei W, Royston P
Open J Stat. 2014;4(11):977-998.
2013
Treatment of primary breast cancer at the surgical unit of the Charité 1984-1998
Winzer K, Buchholz A, Guski H, Frohberg H, Diekmann F, Possinger K, Sauerbrei W
ONKOLOGIE. 2013;36(12):727-36.
2011
Comparison of procedures to assess non-linear and time-varying effects in multivariable models for survival data
Buchholz A, Sauerbrei W
BIOMETRICAL J. 2011;53(2):308-31.
2009
Simulating competing risks data in survival analysis
Beyersmann J, Latouche A, Buchholz A, Schumacher M
STAT MED. 2009;28(6):956-71.
2008
On properties of predictors derived with a two-step bootstrap model averaging approach - A simulation study in the linear regression model
Buchholz A, Holländer N, Sauerbrei W
COMPUT STAT DATA AN. 2008;52(5):2778-2793.
Investigation about a screening step in model selection
Sauerbrei W, Holländer N, Buchholz A
STAT COMPUT. 2008;18(2):195-208.
Letzte Aktualisierung aus dem FIS: 23.10.2021 - 04:01 Uhr