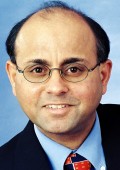 Dr. rer. nat.
Amit Gulati
Location
---
W34, Ground Floor, Room number 10
Areas of expertise
Medical Biometry
Curriculum vitae
Publications
2019
Survivin expression in head and neck squamous cell carcinomas is frequent and correlates with clinical parameters and treatment outcomes
Münscher A, Prochnow S, Gulati A, Sauter G, Lörincz B, Blessmann M, Hanken H, Böttcher A, Clauditz T
CLIN ORAL INVEST. 2019;23(1):361-367.
2018
Dual antibody induction and de novo use of everolimus enable low-dose tacrolimus with early corticosteroid withdrawal in simultaneous pancreas-kidney transplantation
Li J, Koch M, Kramer K, Kloth K, El Rahman Abu Ganim A, Scheidat S, Rinninger F, Thaiss F, Gulati A, Herden U, Achilles E, Fischer L, Nashan B
TRANSPL IMMUNOL. 2018;50:26-33.
2017
Diagnostic accuracy study of routine echocardiography for bicuspid aortic valve: a retrospective study and meta-analysis
Hillebrand M, Koschyk D, Ter Hark P, Schüler H, Rybczynski M, Berger J, Gulati A, Bernhardt A, Detter C, Girdauskas E, Blankenberg S, von Kodolitsch Y
Cardiovasc Diagn Ther. 2017;7(4):367-379.
Immediate Pain Relief in Adhesive Capsulitis by Acupuncture-A Randomized Controlled Double-Blinded Study
Schröder S, Meyer-Hamme G, Friedemann T, Kirch S, Hauck M, Plätke R, Friedrichs S, Gulati A, Briem D
PAIN MED. 2017;18(11):2235-2247.
Risk of Type 1 Diabetes in children and adolescents born through elective and emergency Cesarean section: a meta-analysis
Tanoey J, Gulati A, Becher H
GESUNDHEITSWESEN. 2017;79(08/09):656-804.
2016
Associating liver partition and portal vein ligation for staged hepatectomy:From technical evolution to oncological benefit
Li J, Ewald F, Gulati A, Nashan B
World J Gastrointest Surg. 2016;8(2):124-133.
2015
Role of panendoscopy in identifying and managing risk of head and neck squamous cell carcinoma in routine follow-up: a retrospective clinical evaluation
Münscher A, Sehner S, Taleh J, Tribius S, Möckelmann N, Böttcher A, Gulati A, Dalchow C, Clauditz T, Knecht R
EUR ARCH OTO-RHINO-L. 2015;272(7):1769-75.
Letzte Aktualisierung aus dem FIS: 07.12.2019 - 06:17 Uhr