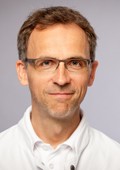 Dr. med.
Martin Jankofsky
Medical Specialist in Pediatrics and Youth Medicine
Gastroenterology - Children
Areas of expertise
Pediatric gastroenterology
Publications
Hemophagocytic lymphohistiocytosis in imported pediatric visceral leishmaniasis in a nonendemic area
Bode S, Bogdan C, Beutel K, Behnisch W, Greiner J, Henning S, Jorch N, Jankofsky M, Jakob M, Schmid I, Veelken N, Vraetz T, Janka G, Ehl S, Lehmberg K
J PEDIATR-US. 2014;165(1):147-153.e1.
Letzte Aktualisierung aus dem FIS: 25.02.2021 - 07:06 Uhr