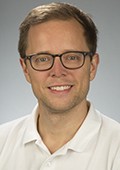 Dr. med.
Lars Arne Berger
Medical Specialist in Internal Medicine and Hematology and Oncology
Location
---
O24 , 4th Floor, Room number
Areas of expertise
Hematology

Oncology

Internal medicine
Publications
Effect of increased opiate exposure on three years neurodevelopmental outcome in extremely preterm infants
Giordano V, Deindl P, Fuiko R, Unterasinger L, Waldhoer T, Cardona F, Berger A, Olischar M
EARLY HUM DEV. 2018;123:1-5.
Blood transfusions using 27 gauge PICC lines: a retrospective clinical study on safety and feasibility
Repa A, Mayerhofer M, Worel N, Cardona F, Deindl P, Pollak A, Berger A, Haiden N
KLIN PADIATR. 2014;226(1):3-7.
Safety of blood transfusions using 27 gauge neonatal PICC lines: an in vitro study on hemolysis
Repa A, Mayerhofer M, Cardona F, Worel N, Deindl P, Pollak A, Berger A, Haiden N
KLIN PADIATR. 2013;225(7):379-82.
Bone metastases in germ cell tumor patients.
Oechsle K, Bokemeyer C, Kollmannsberger C, Mayer F, Berger L, Oing C, Honecker F
J CANCER RES CLIN. 2012;138(6):947-952.
Letzte Aktualisierung aus dem FIS: 11.12.2023 - 04:43 Uhr