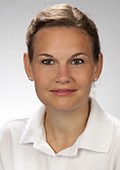 Dr. med.
Franziska Modemann
Areas of expertise
Hematology

Oncology
Publications
2015
Vestibular compensation in cerebellar stroke patients
Baier B, Rhode F, Dieterich M
EUR J NEUROL. 2015;22(2):416-8.
Deep brain stimulation of the nucleus ventralis intermedius: a thalamic site of graviceptive modulation
Baier B, Vogt T, Rhode F, Cuvenhaus H, Conrad J, Dieterich M
BRAIN STRUCT FUNCT. 2015.
2014
Insula and sensory insular cortex and somatosensory control in patients with insular stroke
Baier B, zu Eulenburg P, Geber C, Rohde F, Rolke R, Maihöfner C, Birklein F, Dieterich M
EUR J PAIN. 2014;18(10):1385-93.
Letzte Aktualisierung aus dem FIS: 01.06.2020 - 06:29 Uhr