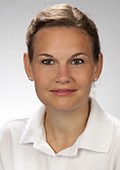 Dr. med.
Franziska Modemann
Areas of expertise
Hematology

Oncology
Publications
2020
A Phase II study of selinexor plus cytarabine and idarubicin in patients with relapsed/refractory acute myeloid leukaemia
Fiedler W, Chromik J, Amberg S, Kebenko M, Thol F, Schlipfenbacher V, Christine Wilke A, Modemann F, Janning M, Serve H, Ganser A, Bokemeyer C, Theile S, Deppermann U, Kranich A, Heuser M
BRIT J HAEMATOL. 2020;190(3):e169-e173.
Ruxolitinib plus extracorporeal photopheresis (ECP) for steroid refractory acute graft-versus-host disease of lower GI-tract after allogeneic stem cell transplantation leads to increased regulatory T cell level
Modemann F, Ayuk F, Wolschke C, Christopeit M, Janson D, von Pein U, Kröger N
BONE MARROW TRANSPL. 2020.
2015
Vestibular compensation in cerebellar stroke patients
Baier B, Rhode F, Dieterich M
EUR J NEUROL. 2015;22(2):416-8.
Deep brain stimulation of the nucleus ventralis intermedius: a thalamic site of graviceptive modulation
Baier B, Vogt T, Rhode F, Cuvenhaus H, Conrad J, Dieterich M
BRAIN STRUCT FUNCT. 2015.
2014
Insula and sensory insular cortex and somatosensory control in patients with insular stroke
Baier B, zu Eulenburg P, Geber C, Rohde F, Rolke R, Maihöfner C, Birklein F, Dieterich M
EUR J PAIN. 2014;18(10):1385-93.
Letzte Aktualisierung aus dem FIS: 10.08.2020 - 06:54 Uhr