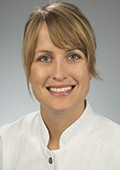 Dr. med.
Christina Charlotte Rolling
Medical Specialist in Internal Medicine
Areas of expertise
Hematology

Oncology

Internal medicine

Hemostaseology
Memberships
DGIM (Deutsche Gesellschaft für Innere Medizin), GTH (Gesellschaft für Thrombose- und Hämostaseforschung)
Publications
2019
2017
2016
2015
2014
2013
Apixaban for the Treatment of Chronic Disseminated Intravascular Coagulation: A Report of Two Cases
Janjetovic S, Holstein K, Dicke C, Bokemeyer C, Langer F
HAMOSTASEOLOGIE. 2019;39(3):294-297.
Myeloperoxidase Is a Negative Regulator of Phospholipid-Dependent Coagulation
Beckmann L, Dicke C, Spath B, Lehr C, Sievers B, Klinke A, Baldus S, Rudolph V, Langer F
THROMB HAEMOSTASIS. 2017;117(12):2300-2311.
Distinct mechanisms account for acquired von Willebrand syndrome in plasma cell dyscrasias
Dicke C, Schneppenheim S, Holstein K, Spath B, Bokemeyer C, Dittmer R, Budde U, Langer F
ANN HEMATOL. 2016;95(6):945-57.
Tissue factor-dependent and -independent pathways of systemic coagulation activation in acute myeloid leukemia: a single-center cohort study
Dicke C, Amirkhosravi A, Spath B, Jiménez-Alcázar M, Fuchs T, Davila M, Francis J, Bokemeyer C, Langer F
Exp Hematol Oncol. 2015;4:22.
Atypical venous thromboses in myeloproliferative neoplasias
Dicke C, Frölich A, Holstein K, Bokemeyer C, Langer F
PHLEBOLOGIE. 2015;44(6):324–329.
Pathophysiology of Trousseau's syndrome
Dicke C, Langer F
HAMOSTASEOLOGIE. 2015;35(1):52-9.
Acquired hemophilia A and von Willebrand syndrome in a patient with late-onset systemic lupus erythematosus
Dicke C, Holstein K, Schneppenheim S, Dittmer R, Schneppenheim R, Bokemeyer C, Iking-Konert C, Budde U, Langer F
Exp Hematol Oncol. 2014;3:21.
Retroperitoneal fibrosis as manifestation of chronic GVHD after allogeneic hematopoietic SCT
Dicke C, Kertész A, Henke R, Hasenkamp J, Jung W, Trümper L, Wulf G
BONE MARROW TRANSPL. 2013;48(3):467-8.
Letzte Aktualisierung aus dem FIS: 01.06.2020 - 06:36 Uhr