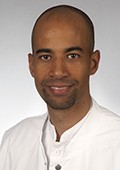 Dr. med.
Chinedu Ulrich Ebenebe
MBA
Medical Specialist in Pediatrics and Youth Medicine
Neonatology
Intensive Care Medicine
Emergency Medicine
Areas of expertise
Neonatology and pediatric intensive care medicine
Publications
Radiation exposure by digital radiographic imaging in very low birth weight infants
Ebenebe C, Barreau C, Waschkewitz J, Schlattl H, Pinnschmidt H, Deindl P, Singer D, Herrmann J
J PERINATOL. 2019;39(1):115-119.
Letzte Aktualisierung aus dem FIS: 24.07.2019 - 05:07 Uhr