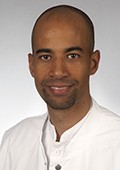 Dr. med.
Chinedu Ulrich Ebenebe
MBA
Medical Specialist in Pediatrics and Youth Medicine
Neonatology
Intensive Care Medicine
Emergency Medicine
Areas of expertise
Neonatology and pediatric intensive care medicine
Publications
Radiation exposure by digital radiographic imaging in very low birth weight infants
Ebenebe C, Barreau C, Waschkewitz J, Schlattl H, Pinnschmidt H, Deindl P, Singer D, Herrmann J
J PERINATOL. 2019;39(1):115-119.
Diagnostic accuracy of interleukin-6 for early-onset sepsis in preterm neonates
Ebenebe C, Hesse F, Blohm M, Jung R, Kunzmann S, Singer D
The journal of maternal-fetal & neonatal medicine : the official journal of the European Association of Perinatal Medicine, the Federation of Asia and Oceania Perinatal Societies, the International Society of Perinatal Obstetricians. 2019 [Epub ahead of print];1-6.
Letzte Aktualisierung aus dem FIS: 24.01.2020 - 06:19 Uhr