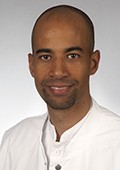 Dr. med.
Chinedu Ulrich Ebenebe
MBA
Medical Specialist in Pediatrics and Youth Medicine
Neonatology
Intensive Care Medicine
Emergency Medicine
Areas of expertise
Neonatology and pediatric intensive care medicine
Publications
Interleukin-6 elevation in healthy neonates
Ebenebe C, Boiger A, Perez A, Mathies F, Hecher K, Singer D
J PERINATOL. 2020;40(2):294-298.
Radiation exposure by digital radiographic imaging in very low birth weight infants
Ebenebe C, Barreau C, Waschkewitz J, Schlattl H, Pinnschmidt H, Deindl P, Singer D, Herrmann J
J PERINATOL. 2019;39(1):115-119.
Diagnostic accuracy of interleukin-6 for early-onset sepsis in preterm neonates
Ebenebe C, Hesse F, Blohm M, Jung R, Kunzmann S, Singer D
J MATERN-FETAL NEO M. 2019 [Epub ahead of print];1-6.
Markers of NETosis Do Not Predict Neonatal Early Onset Sepsis: A Pilot Study
Stiel C, Ebenebe C, Trochimiuk M, Pagarols Raluy L, Vincent D, Singer D, Reinshagen K, Boettcher M
FRONT PEDIATR. 2019;7:555.
Letzte Aktualisierung aus dem FIS: 04.07.2020 - 06:31 Uhr