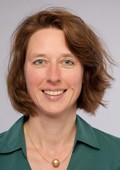 Dr. med.
Barbara Meissner
Medical specialist
Studienärztin HIT-MED Studienzentrale
Medical Specialist in Pediatrics and Youth Medicine, with focus on Childrens' Hematology and Oncology
Location
---
N23 , 1st Floor, Room number R122
Areas of expertise
Pediatric hematology and oncology
Publications
2019
Relapse of a group 4 medulloblastoma after 18 years as proven by histology and DNA methylation profiling
Ricklefs F, Fritzsche F, Winkler B, Meissner B, Dührsen L, Westphal M, Rutkowski S, Martens T, Schüller U
CHILD NERV SYST. 2019;35(6):1029-1033.
Letzte Aktualisierung aus dem FIS: 27.05.2020 - 06:22 Uhr