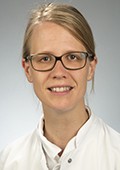 Dr. med.
Anna Brandt
Medical Specialist in Internal Medicine and Hematology and Oncology
Areas of expertise
Oncology

Hematology

Internal medicine
Publications
2019
2017
2015
2014
2013
2012
A significant proportion of patients with primary central nervous system lymphoma harbor clonal bone marrow B-cells
Brandt A, Matschke J, Fehrle W, von Wenserski L, Bokemeyer C, Illerhaus G, Binder M
LEUKEMIA LYMPHOMA. 2019;60(2):334-340.
T-cell diversification reflects antigen selection in the blood of patients on immune checkpoint inhibition and may be exploited as liquid biopsy biomarker
Akyüz N, Brandt A, Stein A, Schliffke S, Mährle T, Quidde J, Goekkurt E, Loges S, Haalck T, Ford C, Asemissen A, Thiele B, Radloff J, Thenhausen T, Krohn-Grimberghe A, Bokemeyer C, Binder M
INT J CANCER. 2017;140(11):2535-2544.
Resistance to anti-CD19/CD3 BiTE in acute lymphoblastic leukemia may be mediated by disrupted CD19 membrane trafficking
Braig F, Brandt A, Goebeler M, Tony H, Kurze A, Nollau P, Bumm T, Böttcher S, Bargou R, Binder M
BLOOD. 2017;129(1):100-104.
Long-term CD38 saturation by daratumumab interferes with diagnostic myeloma cell detection
Oberle A, Brandt A, Alawi M, Langebrake C, Janjetovic S, Wolschke C, Schütze K, Bannas P, Kröger N, Koch-Nolte F, Bokemeyer C, Binder M
HAEMATOLOGICA. 2017;102(9):e368-e370.
Monitoring multiple myeloma by next-generation sequencing of V(D)J rearrangements from circulating myeloma cells and cell-free myeloma DNA
Oberle A, Brandt A, Voigtländer M, Thiele B, Radloff J, Schulenkorf A, Alawi M, Akyüz N, März M, Ford C, Krohn-Grimberghe A, Binder M
HAEMATOLOGICA. 2017;102(6):1105-1111.
Mutational landscape reflects the biological continuum of plasma cell dyscrasias
Rossi A, Voigtländer M, Janjetovic S, Thiele B, Alawi M, März M, Brandt A, Hansen T, Radloff J, Schön G, Hegenbart U, Schönland S, Langer C, Bokemeyer C, Binder M
BLOOD CANCER J. 2017;7(2):e537.
The role of T-cell phenotype and T-cell receptor rearrangement in the diagnosis of T-cell malignancies: author's reply
Flammiger A, Binder M
LEUKEMIA LYMPHOMA. 2015;56(12):3455.
Multiparameter flow cytometry in the differential diagnosis of aberrant T-cell clones of unclear significance
Flammiger A, Bacher U, Christopeit M, Horn C, Rühlmann E, Kluge K, Vettorazzi E, Bokemeyer C, Binder M
LEUKEMIA LYMPHOMA. 2014;56(3):639-644.
Multidimensional scaling analysis identifies pathological and prognostically relevant profiles of circulating T-cells in chronic lymphocytic leukemia
Rissiek A, Schulze C, Bacher U, Schieferdecker A, Thiele B, Jacholkowski A, Flammiger A, Horn C, Haag F, Tiegs G, Zirlik K, Trepel M, Tolosa E, Binder M
INT J CANCER. 2014;135(10):2370-2379.
High tissue density of FOXP3+ T cells is associated with clinical outcome in prostate cancer
Flammiger A, Weisbach L, Huland H, Tennstedt P, Simon R, Minner S, Bokemeyer C, Sauter G, Schlomm T, Trepel M
EUR J CANCER. 2013;49(6):1273-9.
Critical imbalance of TNF-α and soluble TNF receptor 1 in a patient with macrophage activation syndrome: potential implications for diagnostics and treatment.
Flammiger A, Fiedler W, Bacher U, Bokemeyer C, Schneider M, Binder M
ACTA HAEMATOL-BASEL. 2012;128(2):69-72.
Letzte Aktualisierung aus dem FIS: 11.12.2023 - 04:43 Uhr