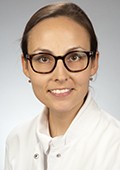 Dr. med.
Anja Coym
Medical Specialist in Internal Medicine and Hematology and Oncology
Areas of expertise
Hematology

Internal medicine

Palliative medicine
Publications
Impact, challenges and limits of inpatient palliative care consultations - perspectives of requesting and conducting physicians
Coym A, Oechsle K, Kanitz A, Puls N, Blum D, Bokemeyer C, Ullrich A
BMC HEALTH SERV RES. 2020;20(1):86.
Systematic symptom and problem assessment at admission to the palliative care ward - perspectives and prognostic impacts
Coym A, Ullrich A, Hackspiel L, Ahrenholz M, Bokemeyer C, Oechsle K
BMC PALLIAT CARE. 2020;19(1):75.
Symptomkontrolle: Schwäche und Immobilität, Fatigue, Schlafstörungen
Coym A, Hlawatsch C
2019. FAQ Palliativmedizin. Oechsle K, Scherg A (eds.). 1. ed. München: Urban & Fischer, 73-81.
Dosisdichte neoadjuvante Chemotherapie beim Harnblasenkarzinom. Potenzial für die Zukunft?
Coym A
ONKOLOGE. 2018;24(10):.
Evaluation of a program for routine implementation of shared decision-making in cancer care: study protocol of a stepped wedge cluster randomized trial
Scholl I, Hahlweg P, Lindig A, Bokemeyer C, Coym A, Hanken H, Müller V, Smeets R, Witzel I, Kriston L, Härter M
IMPLEMENT SCI. 2018;13(1):51.
PD-1 Blockade zeigt therapeutische Aktivität: Neuer Therapieansatz beim rezidiveren Hodgkin-Lymphom
Coym A, Dierlamm J, Bokemeyer C
InFo Onkologie. 2015;(6):34-36.
The Rare Occurrence of the Translocation t(8;14) in Chronic Lymphatic Leukemia: Case Report and Review of the Literature
Coym A, Janjetovic S, Bokemeyer C, Fiedler W
Ann Hematol Oncol. 2015;2(5):1039.
Letzte Aktualisierung aus dem FIS: 16.09.2021 - 07:12 Uhr