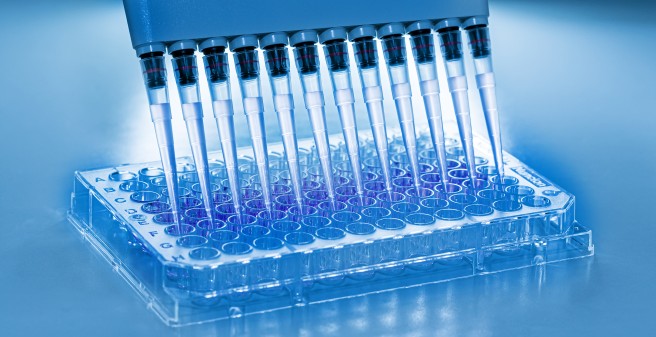 Immunophenotyping (FACS-Laboratory)
Team:
Christiane Horn
Katrin Kluge
Annette Schaefer
Physicians:

Dr. med. Anna Brandt (maiden name Flammiger)
Services
Immunophenotypic analysis of bone marrow, peripheral blood, ascites, cerebrospinal fluid, pleural fluid, lymph nodes in the diagnosis of hematological diseases
PNH diagnostics
Absolute cell count calculation/"Immune status" (T-Cells, B-Cells, NK-Cells)
Specimen Submission
Important: Tests can be ordered through SOARIAN under "Hämatologische Diagnostik" (hematology diagnostics). We ask that you always include diagnosis and specific question in the service request.
Bone marrow
In Li-Heparin Tubes (2-3 ml), Please make sure to include tissue pieces!
Peripheral blood
In Heparin Tubes( 5-10 ml), depending on number of leukocytes
PNH Diagnostics
For more information on PNH Diagnostics see LINK (HIER FEHLT LINK AUF DATEI)
If possible, always contact us regarding PNH diagnostics IN ADVANCE please!
Immune status
5 ml EDTA-Blood + automated differential blood count (complete)
Ascitic Fluid, Cerebrospinal Fluid, Pleural Fluid
undiluted in sufficient quantities (Consult us if required!)
Lymph nodes
in some NaCl 0,9% (moisten)
Material Acceptance
Monday - Thursday 8:00 a.m. – 3:00 p.m. and Friday until 12:00 noon
For emergencies, please contact us first!
You can reach us anytime on extension -(9)52985.
Phone: 040 / 7410 -(9)52985
Fax: 040 / 7410 -52186
Mailing Address
Universitätsklinikum Hamburg-Eppendorf
Zentrum für Onkologie
II. Medizinische Klinik
Immunphänotypisierung (FACS-Labor)
Gebäude O38, EG, Raum 24
Martinistr. 52
20246 Hamburg