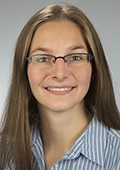 Dr. rer. nat.
Vera Labitzky
M. Sc.
Location
---
N62 , Ground Floor, Room number 6
Curriculum vitae
Publications
Modeling Spontaneous Bone Metastasis Formation of Solid Human Tumor Xenografts in Mice
Labitzky V, Baranowsky A, Maar H, Hanika S, Starzonek S, Ahlers A, Stübke K, Koziolek E, Heine M, Schäfer P, Windhorst S, Jücker M, Riecken K, Amling M, Schinke T, Schumacher U, Valentiner U, Lange T
CANCERS. 2020;12(2):.
Electrical Impedance Spectroscopy for Characterization of Prostate PC-3 and DU 145 Cancer Cells
Teixeira V, Barth T, Labitzky V, Schumacher U, Krautschneider W
Conf Proc IEEE Eng Med Biol Soc. 2019;2019:6485-6489.
Prognostic impact of transcription factor Fra-1 in ER-positive breast cancer: contribution to a metastatic phenotype through modulation of tumor cell adhesive properties
Oliveira-Ferrer L, Kürschner M, Labitzky V, Wicklein D, Müller V, Lüers G, Schumacher U, Milde-Langosch K, Schröder C
J CANCER RES CLIN. 2015;141(10):1715-26.
E- and p-selectins are essential for repopulation of chronic myelogenous and chronic eosinophilic leukemias in a scid mouse xenograft model
Wicklein D, Schmidt A, Labitzky V, Ullrich S, Valent P, Schumacher U
PLOS ONE. 2013;8(7):e70139.
Letzte Aktualisierung aus dem FIS: 26.02.2020 - 06:55 Uhr