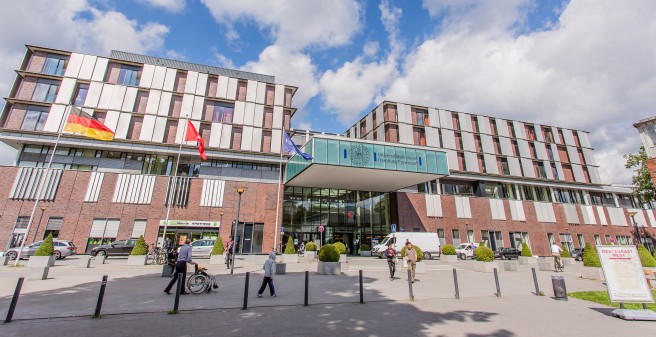 Welcome to the Department of Otolaryngology
Consultations
The spectrum of Otolaryngology conditions requires separate consultations offering different medical services. For example, the diagnosis of patients with tumors in the head and neck/throat area involves the use of specific imaging and examination techniques. We work closely with other specialists such as those at the Head-Throat Tumor Center at the UCCH in order to determine the best possible patient-focused therapy and aftercare.
Research
Our department conducts national and international clinical studies. Patients benefit from the fact that our clinical practice is carried out alongside basic research as the knowledge and data collected influences our medical approach. We are able to apply the latest scientific findings when treating our patients and thus optimize therapy.
About the department – Key facts
Cooperation with world-renowned institutes such as the Harvard Medical School (Boston), the Memorial Sloan-Kettering Cancer Center (New York) and the MD Anderson Cancer Center Houston (Texas) ensure extremely high standards in diagnostics and therapy.
We stage a biennial Tumor Expert Congress.
You can view the content and videos by visiting www.statements-cancer.org .
In January 2010 we held the first training session "Tumor Medication Therapy", which was attended by more than 120 physicians and has been organized on an annual basis.