Department of Visceral Transplantation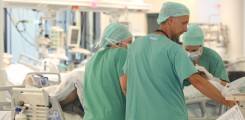 Our facility is the biggest transplant center in North Germany and Europe's biggest center for liver transplants for children. Our clinic established the first live liver donor program for Europe.
We practice all the most advanced methods of kidney transplant surgery and kidney live donor procedures, including AB0 incompatible transplants and – in cooperation with the Center for Children's Medicine – perform kidney transplants on children.
Our expertise includes combined surgical procedures such as kidney/pancreas and liver/ kidney transplants. The Clinic for Hepatobiliary Surgery is part of the University Cancer Center Hamburg (UCCH ) , which has been accredited by German Cancer Aid (Deutsche Krebshilfe e.V.) as a leading center of oncology. Thanks to interdisciplinary cooperation we are able to develop optimal treatment plans even for patients with complex tumors and liver metastasis. Another area in which we excel is the development of minimally invasive therapy of benign liver tumors and the gall bladder. Innovative treatment concepts, including 3D reconstruction and navigation, are important tools we use in the treatment of complex medical conditions.