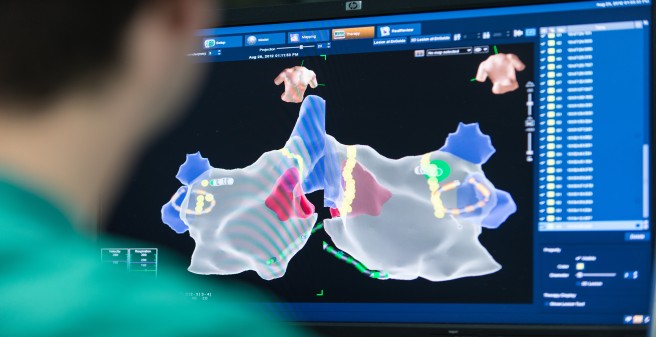 Hamburg has Rhythm: Cardiology specialising in electrophysiology
Dear patients,
Cardiology is a constantly evolving medical field. Apart from cardiologic core areas like coronary artery disease, heart valve disease and myocardial disease, the treatment of arrhythmia has become another focus in cardiology, mostly due to new and highly efficient therapy options.
Implementation of modern pacemakers and defibrillators as well as interventional electrophysiology (examination of heart rhythm and catheter ablation) require a high level of expert knowledge. To ensure the high quality of our information and to continue to be able to offer the most recent innovations in treatment (3-D mapping, robotic navigation), a separate department was established: The Department for Cardiology/Electrophysiology.
In close collaboration with private practice cardiologists and colleagues in partner hospitals, the standards and aims of the whole University Heart Centre regarding best practices, medical quality and service are applied here as well.
It is one of our main goals that, apart from routine in-patient diagnostics and therapy, patients are comprehensively informed during our special consultation hours for patients with heart rhythm conditions, for example, informing the patient with heart rhythm conditions of the catheter ablation as a treatment of atrial fibrillation.
With catheter ablation, we concentrate on painless procedures using so-called short anesthesia. Our aim is to achieve effective and gentle treatment.
There are a large number of procedures done at our center. Delays may occur especially with catheter ablation and the patient may have a longer wait. Thank you for your patience and understanding. Be assured that we practice the principle of maximum safety and quality at the same time as considering medical urgency.
We are happy to answer any further questions. We hope you have a pleasant stay with us and that our hospital has contributed to your recovery.
Yours sincerely,
Professor Dr. Christian Meyer